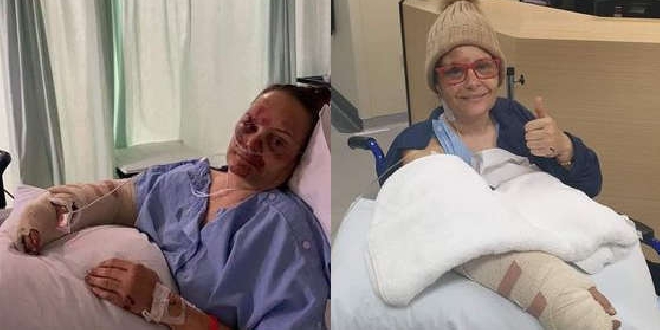 Carrie Millson spent several weeks in hospital recovering from the crash. PIC: Supplied
WARNING: This story contains graphic images.
A mother-of-three whose arm was nearly severed in an horrific crash in Golden Bay has thanked the first responders who came to her aid.
Carrie Millson, 43, was travelling in a red Daihatsu Terios with four other adults on August 15 when the car rolled as it turned onto Warnbro Sound Avenue from Aurea Boulevard.
"She (the driver) may have gone a little bit fast for the corner, but she wasn't speeding and she wasn't over the limit or anything...it was just a freak accident," Ms Millson said.
"I think because we were top heavy with the five adults it just tipped.
"Normally the car is on four wheels and next you know we're on two wheels."
Ms Millson said her arm came out of the window as the car rolled.
She suffered a severed artery and lost a lot of blood.
Ms Millson's friend managed to free herself from the wreck and used her shirt to help stop the bleeding.
"She took off her shirt to stem the bleeding and my kid's dad - his cousin, cut the seatbelt and used it as a tourniquet," Ms Millson said.
"I think they saved my arm and my life."
An off-duty nurse was one of the first people on the scene, followed by St John Ambulance paramedics.
"It seems that an off-duty nurse is always around...they're sent by angels I think," Ms Millson said.
"Apparently it was a gory sight and for people to stop and help and put that aside and do what they gotta' do
"To all the people that stopped and helped...you saved my life."
Ms Millson had emergency surgery on her arm as soon as she arrived at Royal Perth Hospital.
"They'd taken veins and an artery out of my right leg and placed them into my arm," Ms Millson said.
"They've taken a skin graft the size of my left thigh and that's covering most of my right arm.
"So I've got a piece of leg on my arm."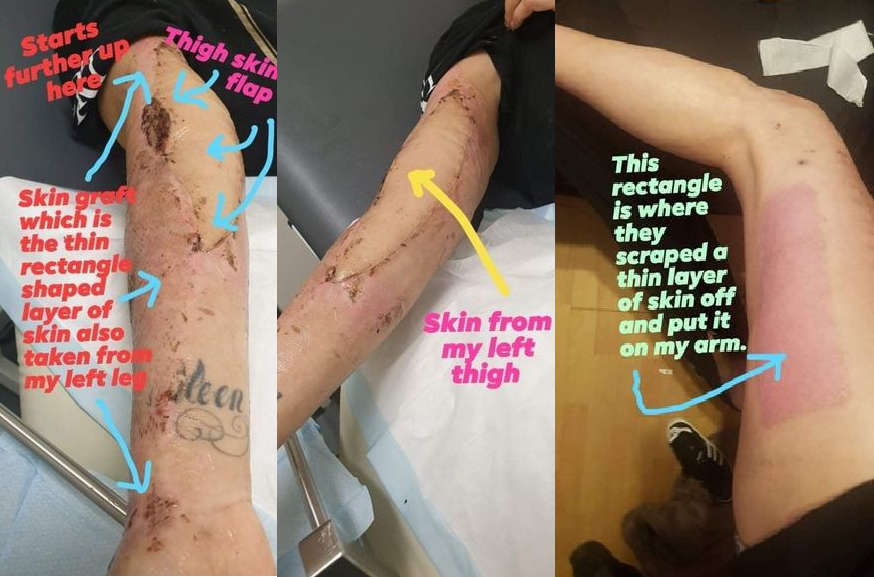 Ms Millson said she is recovering well and has her dressings changed every second day.
Her children's father suffered a minor spinal injury in the accident and is undergoing physiotherapy.
The three other occupants received minor injuries in the crash.
Ms Millson said the outcome could've been different if they were not wearing seatbelts.
"It was only my hand and my face that were dragged out of the window...had I not had a seatbelt I think my whole body could've been dragged," she said.
Major Crash officers are still investigating.
Charges are yet to be laid.