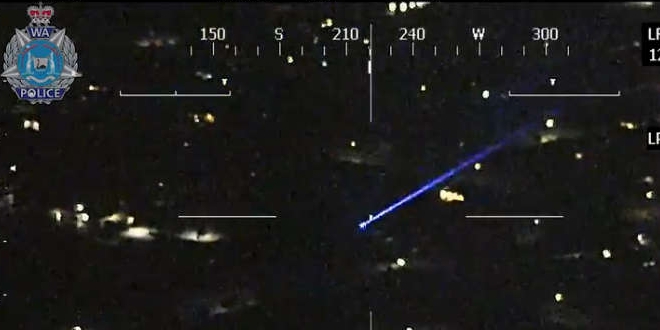 PIC: Western Australia Police Force Facebook page
A 28-year-old man has been fined $1000 after he pointed a laser at a police helicopter.
Eddy Ikonen appeared in the Mandurah Magistrates Court on Tuesday where he pleaded guilty to one count of causing fear or alarm with a laser or light.
The court heard Ikonen was arrested at a home on Korong Road on May 25 after shining a laser at the police helicopter, temporarily blinding the pilots and causing them to take evasive action.
A short time later police were sent to the area and located Ikonen standing outside of his Golden Bay property.
Police seized a laser pointer, previously purchased to be used as a pet toy.
Ikonen's lawyer said her client didn't think the laser would stretch that far and he was remorseful for his actions
She requested a fine or a suspended fine which Magistrate Leanne Atkins immediately denied.
The Golden Bay man received a $1000 fine including $248.70 in court costs.
The two laser pointers which were confiscated from him were ordered by the magistrate to be destroyed.
His spent conviction order was denied.
This offence carries a maximum fine of $36,000 and/ or a term of imprisonment for up to seven years.
Laser Strike – Golden Bay

Laser Strike – Golden Bay A man has been charged after he was allegedly using a laser and pointing it at aircraft in the Golden Bay area last night, 25 May. Police Airwing attended the area and a laser was pointed at them. Officers on the ground located a man at a property on Korong Street, Golden Bay and a laser was seized. A 28-year-old Golden Bay man will be summonsed for cause fear or alarm with laser or light to people in conveyances or others and will appear in court at a later date.

Posted by Western Australia Police Force on Tuesday, May 25, 2021