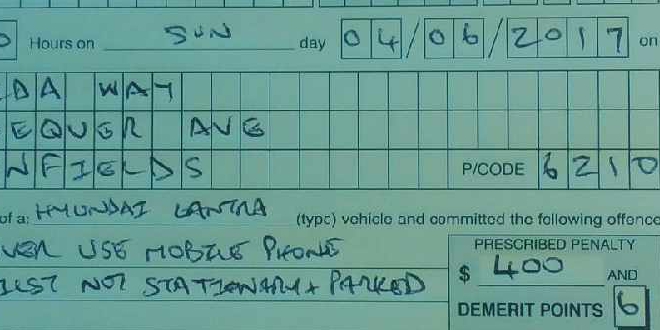 PIC: WA Police Traffic/Twitter
A motorist has felt the force of the long weekend double-demerit penalty.
The driver was pulled over by police on Perida Way near Exchequer Avenue in Greenfields on Sunday morning for allegedly using their mobile phone while driving and not wearing a seatbelt.
The motorist was hit was 14 demerit points and fined $950 and could face a driving ban of at least three months.
1st customer of the day, on mobile and no seatbelt. $950 in fines and 14 demerits. Distractions and restraints. #DoubleDemerits #TEG1PEEL pic.twitter.com/AvZfW0GbLa

— WA Police Traffic (@WAPoliceTraffic) June 4, 2017
Meanwhile, a 55-year-old man was allegedly caught driving more than six times over the legal blood-alcohol limit in Kalgoorlie on Monday night.
He allegedly recorded a blood-alcohol reading of 0.341.
His licence has since been disqualified.
Thanks to public assistance, a 54yo Perth man was removed from behind the wheel in KAL. Immediate disqual & date with MAG. #fb pd8983 pic.twitter.com/cggZdNdWCJ

— Kalgoorlie Police (@KalgoorliePol) June 5, 2017
State Traffic Operations Acting Commander Michael Peters told The West Australian it is frustrating to see people are not getting the message.
"Police officers are continually frustrated with the drivers exhibiting risky behaviour on the roads," Cdr Peters said.