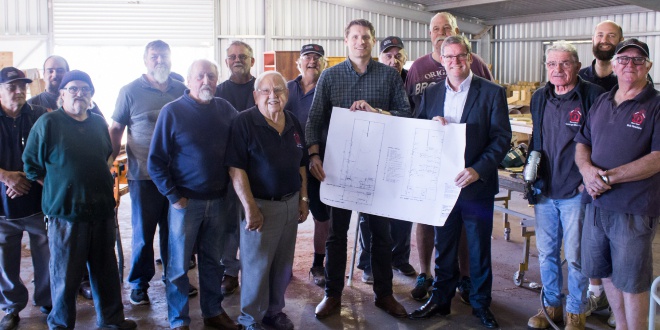 PIC: Supplied
The Coalition Government has awarded funding to help construct the men's help service.
Member for Canning Andrew Hastie was delighted to announce the Turnbull Government would contribute almost half the money required to erect a Men's Shed in Waroona.
Under the Building Better Regions Fund Waroona will receive $200,000 towards the $412,000 project.
The Men's Shed, an institution designed to engage and support men in the community, is expected to create jobs in the district.
"The Waroona Men's Shed is a cherished institution. It's a meeting place where local men look out for one another and stand together to serve their community. Members of the Men's Shed use their skills and experience to build and repair furniture for residents of Waroona," Mr Hastie said.
"Once completed, this fantastic new Men's Shed will create a space for local men to work, socialise, support each other and serve the wider community.
"The project will include construction of a 42m x 18m shed including connection of water, plumbing and electrical connections, full fit-out and perimeter fencing.
"It is expected that construction of the Waroona Men's Shed will create 32 jobs during delivery and one ongoing position in the local community."
Minister for Regional Development, Territories and Local Government John McVeigh said the project will deliver significant economic and social benefits to the community.
"It's all part of the Coalition Government's plan to create more jobs, drive economic growth and build stronger regional communities across Australia," he said.
"A further $200 million was announced in the 2018 Budget for a third round of the Building Better Regions Fund - a clear indication of the Coalition Government's commitment to create jobs, drive economic growth and build stronger regional communities into the future."