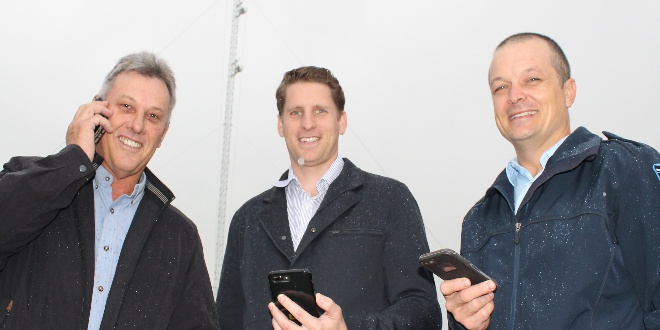 PIC: Supplied
The Member for Canning was in Waroona to open a new mobile tower.
Residents in Waroona will now have improved mobile phone reception and improved mobile broadband thanks to a newly installed mobile tower.
The new mobile base station, which is located just north of Waroona, is part of the Coalition Government's Mobile Black Spot Program, giving greater access to the online market for local farms, residents, businesses and tourists.
Member for Canning Andrew Hastie welcomed the completion of the tower, saying he remained committed to securing better mobile service in the Peel region.
"The Waroona north mobile base station is a critical piece of infrastructure for our local community," he said.
"Towers like this ensure rural Australia remains competitive in the modern economy; that people can connect with their families; and that regional communities like ours remain an attractive place for tourism."
The tower's completion comes as the Coalition Government announces an additional $25 million to build more towers under Round 4 of the Mobile Black Spot Program.
"I'm committed to ensuring the Peel region secures the mobile coverage we need," Mr Hastie said.
The Government has also committed to improving mobile covering Serpentine, Keysbrook and Lake Clifton.
"This new tower is a product of the Coalition Government's Mobile Black Spot Program. We have invested over $220 million into building more than 867 mobile towers across Australia," Mr Hastie said.
In total in the Coalition Government has leveraged more than $680 million towards improving phone coverage, including funding from state and local governments, and the mobile network operators.
The rollout of the first three rounds of the program is on track to deliver 867 mobile base stations nationwide by June 2019.
The competitive selection process for Round Four of the program is expected to commence in the second half of 2018.