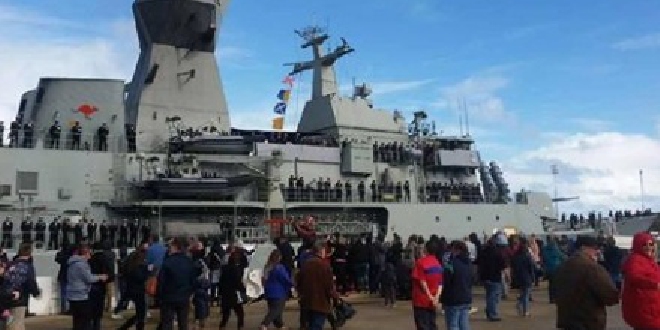 Family and friends welcome home 191 personnel. PIC: Royal Australian Navy/Facebook
HMAS Arunta has arrived home to Rockingham after a nine month deployment to the Middle East seizing narcotics.
Royal Australian Navy frigate HMAS Arunta returned to its Garden Island base on Sunday morning after completing the longest Middle Eastern deployment by a Navy vessel since 1990.

The ship made three significant intercepts during the nine month deployment netting more than 1310kg of illegal narcotics.

Commanding Officer HMAS Arunta, Commander Cameron Steil said he was proud of his crew's achievements.

"The 191 personnel in Arunta have performed superbly over the longest deployment to the Middle East the Australian Navy has committed to since the first Gulf War," CMDR Steil said.

"Over that period we have conducted a number of port visits, but most importantly, we have impacted terrorist funding lines through the interception and disposal of illegal drugs on three occasions."

The ship intercepted 800kg of hashish hidden inside a consignment of coffee on 2 March, 250kg of heroin inside a dhow on 10 May 2017 and 260kg of heroin inside a dhow on 8 June.
Arunta travelled more than 33,000 nautical miles during the deployment, equivalent to circumnavigating Australia almost five times.
HMAS Newcastle will continue the counter terrorism and maritime security efforts until the end of this year."