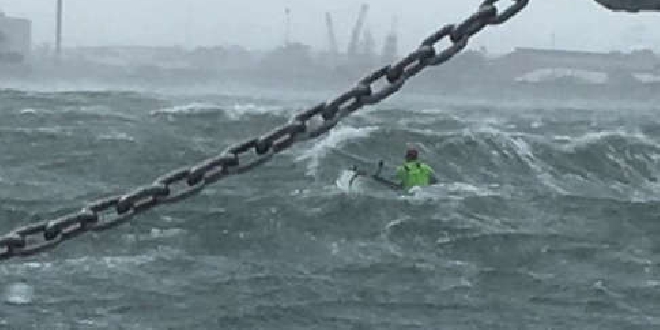 Two kayakers were rescued after one of them capsized in rough seas. PIC: Cockburn Volunteer Sea Search & Rescue/Facebook
Two kayakers are lucky to be alive after they were rescued off Kwinana while a severe weather warning was current.
Water Police received a distress call from a personal locator beacon (PLB) around 10.30am on Sunday after one of the men's kayaks snapped in half in rough seas near Garden Island.
Luckily the man's personal locator beacon was activated and marine rescue crews along with the RAC rescue helicopter were able to find him and winch him to safety.
The other kayaker was escorted back to Kwinana Beach.
Cockburn Volunteer Sea Search and Rescue said it was lucky the kayakers had a PLB.
"Both kayakers were experienced and we commend them for having all the gear required to keep them alive - including the good sense to activate the PLB," they wrote on their Facebook post.