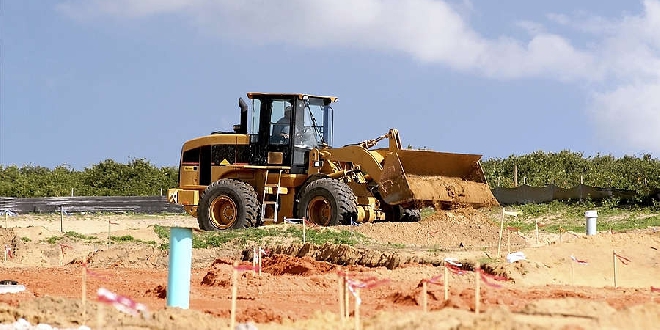 PIC: File
A land developer has been fined $95,000 after one of its employees was seriously injured in a workplace incident in Baldivis.
The Wormall Civil worker along with other employees were conducting civil works for proposed housing blocks in Baldivis in August 2018.
On the day of the incident, a number of employees were working in an open trench around 1.8 metres deep, beside a partially constructed limestone retaining wall.
A steel plate was being used to support the side of the trench close to the wall, when it collapsed into the trench crushing one worker.
He was pinned by the steel plate and several limestone blocks which weighed around 250kg each.
An excavator had to be used to remove the plate and blocks off the man.
His co-workers then lifted him out of the trench.
The man suffered serious crush injuries to his pelvis including multiple fractures that required steel plates and screws.
He also needed to undergo ongoing physiotherapy and other medical support.
In the Perth Magistrates Court on Friday, Wormall Civil Pty Ltd pleaded guilty to failing to provide and maintain a safe workplace and, by that failure, caused serious injury to an employee.
WorkSafe WA Commissioner Darren Kavanagh said the company had internal policies and procedures to ensure work was performed in a safe manner, but none of them were followed.
"Wormall Civil's management plan for this site stated that the Western Australian Code of Practice for Excavation would be followed when earthworks were being undertaken, but this did not occur," Mr Kavanagh said.
"A site drawing specified that no excavation work was to be carried out in front of retaining walls without approval from a structural engineer, and the Project Manager also warned that it would not be safe to undertake work in the trench without first removing the wall.
"But this was all discarded and the code of practice and internal procedures ignored when the decision was made to use a steel plate as ad-hoc shoring for the retaining wall, not a recognised safe method of shoring as per the code.
"It would have taken around two hours to dismantle the retaining wall, but instead management's disregard for the safety of the workers that day resulted in devastating and long-term injuries to a young worker.
"The case should provide a strong reminder to industry that safe work policies and procedures must be in place – and most importantly – should always be followed."