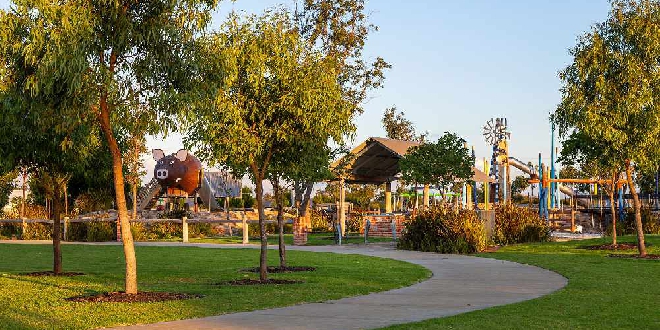 Adventurescape playground in Austin Lakes. PIC: Facebook
The popularity of Austin Lakes in South Yunderup is booming as new land sales surge.
New land sales have grown to over 100 lots in the last 12 months, driven by a 40 per cent increase in the population over the last five years.
Austin Lakes is now one of the fastest selling new communities in the Peel region with more than $14 million worth of sales made since late 2019.
The average lot size sold over the past 12 months was 503sqm, which is 125sqm larger than the Perth average as buyers prioritise blocks of land large enough to accommodate sheds, caravans and boats to access the Peel Estuary and Murray River.
South Yunderup is also following suit with house prices jumping six per cent to a median of $510,000.
Rental vacancy is at a record low with less than five properties available to rent, driving a rental price increase of 16 per cent in the last 6 months.
Local property managers are being forced to cap the number of viewings and rental leases are being signed within days of advertising.
Wolfdene WA General Manager Mitch Brown said the Austin Lakes estate expects to see more investors enter the market in the next phase of the growth cycle as rental prices continue to grow.
"The rise in popularity has been driven by owner occupiers seeking an active, outdoor lifestyle in Austin Lakes on a larger block that is priced well." Mr Brown said
"South Yunderup is over 75% owner occupiers which is higher than surrounding suburbs, so rental vacancies have been swiftly snapped up leaving a shortage of new stock to supply the rental market."
Austin Lakes is currently home to around 1000 residents and 450 homes with a three-hectare lake and Adventurescape playground.
The established community includes shops, pharmacy, medical centre, school, park, café.