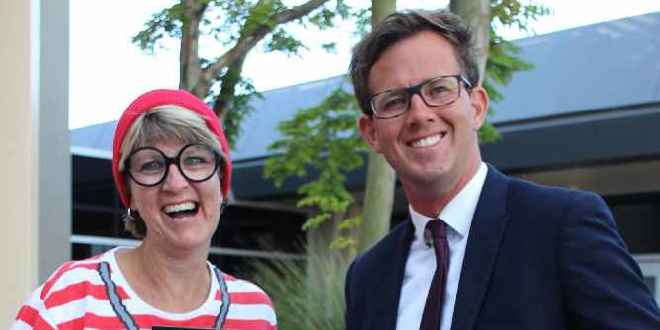 PIC: File
Mandurah's Lisa Kelly is the latest Local Legend.
Kelly can often be spotted around town as her alter ego from Where's Wally, spreading joy, fun and positivity to uplift community spirit and pride.
She uses her Facebook Page, wallyfunwithlisa, to showcase local businesses and to encourage people to buy local to support the region's business community.
Mayor Rhys Williams said the community was a better place with people like Lisa in it.
"Lisa, Mandurah's famous Where's Wally character, has made an amazing contribution to the local community, schools and business sector, by spreading happiness and positivity everywhere she goes," he said.
"She puts the spotlight on our local businesses and is passionate about everyone supporting these businesses where they can, which is wonderful because we know some are doing it tough at the moment.
"Lisa is a great example of an inspiring volunteer doing great things for her community, and for that we thank her. She is a fantastic ambassador for Mandurah."
Having lived in Mandurah since 1970, Lisa also volunteers her time covering thousands of books for local school libraries, and driving the bus for her mother's nursing home.
She's also known for encouraging people to join in with her happy train station dancing following concerts.
Kelly said the Where's Wally guise initially started when she bought the costume for her husband, and when she saw how much fun he was having she bought one for herself.
"I started dressing up as Wally and people loved it. I started meeting people I'd never normally meet, and everyone wanted selfies with Wally, and I didn't want to take the costume off after that," she said.
"It really brings happiness to people and makes them smile. Watching people's reactions to Wally makes it all worth it.
"When I'm Lisa Kelly I"m nervous, but when I'm Wally I am as cool as a cucumber."
If you know of someone who deserves to be a Local Legend please contact the City.