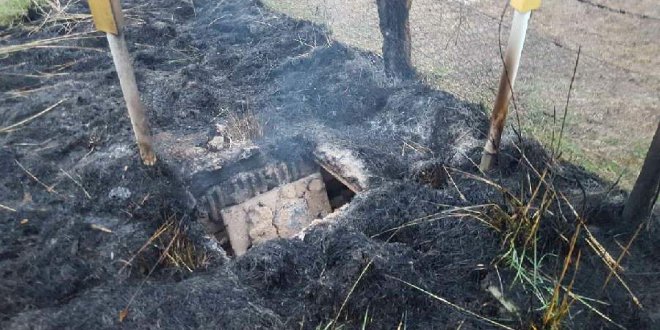 PIC: Twitter / Telstra
Telstra has confirmed a lightning strike is the cause of damage to a cable pit, which has left people across the country unable to make triple-0 emergency calls.
People around the country, including in Western Australia, are still experiencing intermittent interruptions to triple-0 calls.
Earlier this morning Telstra confirmed there was a fault in their network and were working to repair it.
In a tweet the company said a fibre repair crew was on sight of the damage in New South Wales where they found "significant fire damage consistent with lightning strike."
Update: @Telstra fibre repair crew on site at cable pit east of Orange. Significant fire damage consistent with lightning strike. We're working to restore services ASAP and are sorry for service interruptions. Current impact mostly in NSW & some interruptions in VIC, SA & WA. pic.twitter.com/alyCfNIKpZ

— Telstra News (@Telstra_news) May 3, 2018
It's still not yet known when the service will be fully restored with St John Ambulance WA confirming its calls have been affected by the damage over east.
St John calls were affected after cables were damaged in NSW early this morning. It's business as usual & we want to assure everyone that we are receiving all 000 however some intermittent delays may still occur. If you have difficulties calling 000, please call again. #perthnews

— St John Ambulance WA (@stjohn_wa) May 4, 2018
It's understood calls that are unable to be connected are being logged with operators to follow up with callers today.