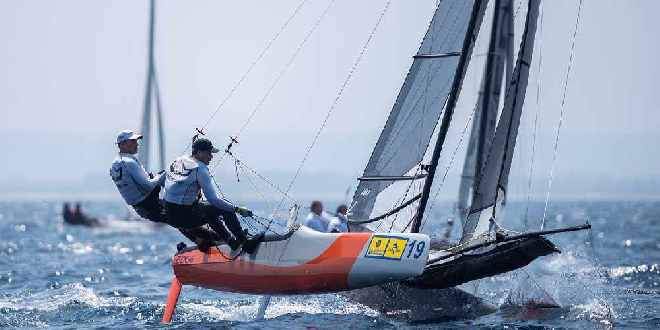 PIC: Secret Harbour brothers Murray, 15, and Andrew Buchan, 17, sailed into second place at the Formula 18 Catamaran World Championships Youth U23 team division in Barcelona in July.
Two Comet Bay College brothers have sailed to success in the Formula 18 Catamaran World Championships in Barcelona. 
Andrew and Murray Buchan competed among 130 teams from 23 countries, with the competition held in the Bay of Roses.
After 14 qualifying and final races, the brothers claimed second place in the youth under 23 team division.
Andrew said they were using this experience to learn, and coming away with a win was "unexpected".
"We went over there with expectations to do well, but we didn't think we would do that well," Andrew said.
"The entire point of this regatta was to become better sailors and to grow up in the sailing community."
The brothers have been sailing for seven years, and said they got hooked on the thrills of competing.
"It's the openness, the ability to do something that no one else can do," Murray said.
"I image it's similar to why people ride fast motorcycles or do skydiving – you can really feel how fast you're going.
"It's an adrenaline rush."
They both believe their success comes down to the close skipper-crew relationship they have developed.
"The best sailing teams in the world are generally brothers and sisters – they have the same mannerism and know each other so well they just work well as a team," Andrew said.
Andrew and Murray will have the chance to defend their second place victory at next year's World Championships, but hope to have a first place win when Australia host the event in 2021.
"That's the one for us," Murray said.
"We want to win our host year.
"It's going to be held at The Cruising Yacht Club in Rockingham which is where we started sailing, so it's come full circle."