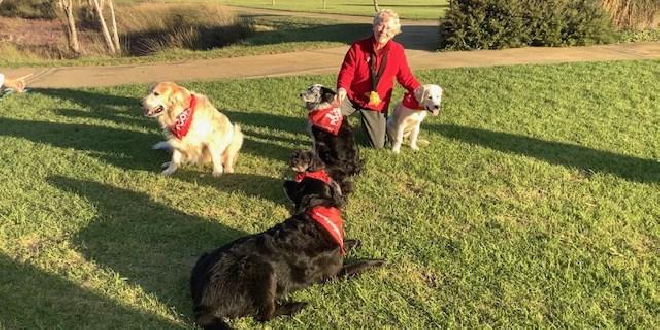 Dr Sheila Twine helped to establish the POOPs (Pets of Older Persons) group in Mandurah. PIC: POOPs WA
Technology trainer, Sheena Edwards, and Mandurah community identity, Dr Sheila Twine, have been awarded the individual honours at the 2020 Western Australian Seniors Awards.
Sheena Edwards has been awarded WA Senior of the Year - Metropolitan, for her work creating and managing Switched on Seniors, a group dedicated to helping seniors in the City of Rockingham to improve their digital skills in a friendly group setting.
Switched on Seniors was inspired by Sheena's own self-education journey with technology, and encourages seniors to become confident and comfortable with technology and get the most out of small handheld devices at their own pace, to ensure they feel included in an increasingly digital world.
Dr Sheila Twine is President of Halls Head Country Croquet Club, but that is only one of her many contributions to the Mandurah community, which have seen her secure the title of WA Senior of the Year - Regional.
Sheila is a former Serpentine-Jarrahdale Shire President, a former President of the Mandurah University of the Third Age, a Principal Patron of the Mandurah Performing Arts Centre, and an academic who has authored over a dozen books for teachers and parents of struggling children.
She was instrumental in starting the POOPs (Pets of Older Persons) group in Mandurah, a volunteer organisation providing free pet care service for elderly or disabled pet owners.
"Sheena and Sheila are thoroughly deserving winners in the individual categories of this year's WA Seniors Awards - and it is worth noting that both of their incredible contributions involved directly assisting other seniors to live their best lives," Seniors and Ageing and Volunteering Minister Mick Murray said.
The 2020 WA Seniors Awards were presented by the Council on the Ageing (WA) in partnership with the State Government. The annual awards are celebrated as part of WA Seniors Week, which this year runs from November 8-16.