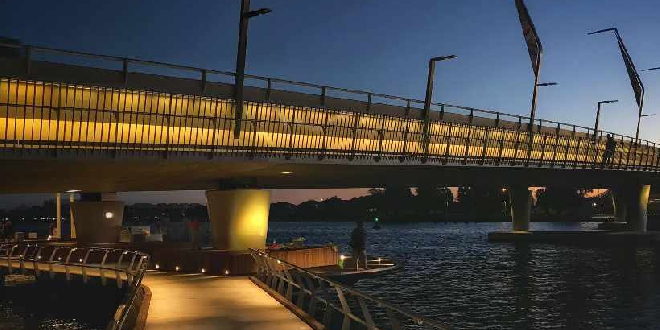 The Mandurah Traffic Bridge will glow yellow this week. PIC: Daniel Wilkins (Lensmandan/Facebook)
National Road Safety Week has officially been launched in Perth.
Landmarks around Australia, including WA icons such as the Elizabeth Quay bridge, the Bell Tower, Council House, the Gateway Sky Ribbon on Tonkin Highway and the new Mandurah Traffic Bridge, will glow yellow during the week (April 30 – May 6), as a reminder of the lives lost on our roads.
In 2017, more than 1200 lives were lost on Australian roads, 161 of those people were killed in Western Australia.
Acting Road Safety Commissioner Iain Cameron said the figures are alarming.
"The only acceptable number of road deaths is zero, and we all need to do our bit as we work towards zero fatalities on our roads," said Mr Cameron.
"National Road Safety Week is an opportunity to start the conversation about road safety with your loved ones, particularly those who may not know what it means to be impacted by road trauma."
A new theme will be observed each day of National Road Safety Week:
• Monday 30 April: Remember the 1200 (road deaths)
• Tuesday 1 May: Protecting those who help us (first responders)
• Wednesday 2 May: Protecting those who help us (roadside assist)
• Thursday 3 May: Protecting every life (pedestrians: children, seniors, people with disabilities)
• Friday 4 May: Shine a light on road safety (Headlights)
• Saturday 5 May: Yellow ride – cyclists and motorcyclists
• Sunday 6 May: Regional and remote road users