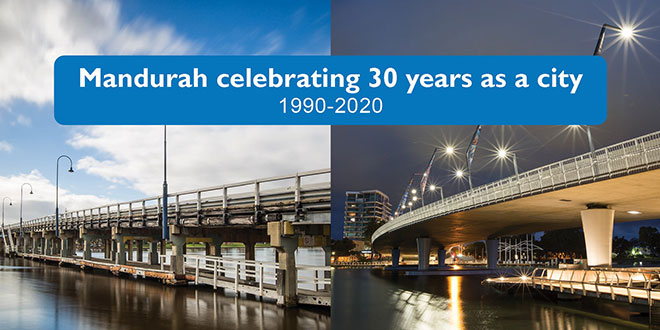 PIC: facebook.com/CityofMandurah/
Mandurah is celebrating a momentous milestone this week with the 30th anniversary of gaining city status on April 14, 1990.
Mayor Rhys Williams expressed his pride at how far Mandurah and its people had come in the past 30 years.
"When we reflect on how much we have grown and what's been achieved over three decades, I think we can look back with immense pride as a community on what we have done together," Mayor Williams said.
"From our sleepy holiday town status in the past, we have certainly forged an incredible path to become a thriving, cosmopolitan city that continues to be a place that people are proud to call home.
"For many recent years Mandurah was one of the fastest-growing regional cities in the country. Even though this growth has slowed over the past couple of years, we're so proud of the fact that people continue to want to come and live here in our great city.
"While at this point in time, along with the rest of the world, we are going through our fair share of challenges, there is no doubt in my mind that we will be stronger and more resilient when this is all over. Mandurah's formidable community spirit and thirst for bouncing back will see us through to the other side.
"I really congratulate the hard work and forward thinking of council and community leaders that have come before us for helping to make Mandurah what it is today, in my opinion one of the best cities in the world.
"We're looking forward to what the next 30 years brings, and continuing to collaborate with our community on a vibrant, citizen-led future."
The Mandurah Road Board became the Shire of Mandurah on 1 July, 1961 following the passage of the Local Government Act 1960, which reformed all remaining road districts into shires. It became the Town of Mandurah on 1 July, 1987 and assumed city status on 14 April, 1990. Mandurah's first Mayor was Bruce Cresswell.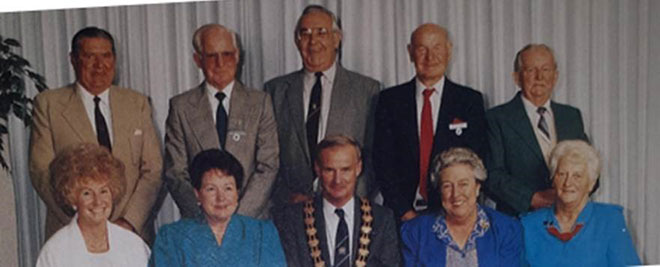 Council of 1990: Pic supplied.
L-R (back row): Cr Dudley Tuckey (deputy mayor), Cr Ron Lee, Town Clerk Ken Donohoe, Cr Cecil Hornsby, Cr Howard Colquhoun
L-R (seated): Cr Joy McClenahan, Cr Pauline Beamond, Mayor Bruce Cresswell, Cr Mavis Leworthy, Cr Joy Carter. Absent: Cr Merv Beacham.
Mandurah's population has grown from around 30,000 to approximately 90,000 over the past three decades.
To celebrate this milestone, the City of Mandurah will be sharing stories and histories across social media all week. To share your stories of Mandurah over the past 30 years, head to our Facebook page at www.facebook.com/cityofmandurah The Mandurah Bridge will also be lit up in the city's colours of yellow and blue this week to commemorate the occasion.