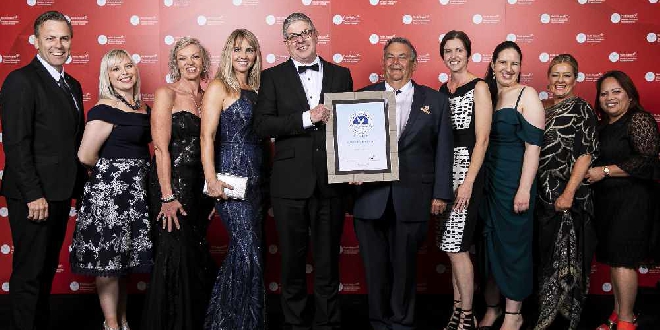 PIC: Tourism Council Western Australia
A local signature annual event, the Mandurah Crab Fest, was inducted into the Perth Airport WA Tourism Awards Hall of Fame at the weekend.
At the awards ceremony on Saturday night, Crab Fest claimed the prestigious spot after winning Gold in the Major Festivals and Events category for three consecutive years.
City of Mandurah CEO Mark Newman said the Hall of Fame accolade was a testament to the success of Crab Fest and the hard work behind the scenes to make the event possible.
"We're proud to say that Crab Fest is Mandurah's most prestigious and significant event, and a popular highlight of the Western Australian events calendar," Mr Newman said.
"Being inducted into the Hall of Fame cements that Crab Fest is a much-loved event not only among our community, but for visitors from around the country and even the world.
"This award also recognises the dedication of our community and City of Mandurah staff in bringing this event to life for the past 21 years, as we continue to honour our culture and heritage while showcasing the best of our region.
"Congratulations and thank you to our community, local businesses, volunteers and sponsors for the role you've played in achieving this important milestone, Mandurah can be very proud."
Crab Fest is WA's biggest free regional event, and Mandurah's signature annual tourism event, with an average yearly attendance of more than 100,000 local, intrastate, interstate and international visitors.
Showcasing the best food and entertainment the Peel Region offers, the two-day festival includes entertainment, unique dining and food experiences, and Mandurah's famous blue swimmer crabs, all set on the backdrop of beautiful waterways.
The festival is an integral part of the state and delivers economic and social benefits to local businesses and the community.
Next year's Crab Fest will be held on March 14 and 15.