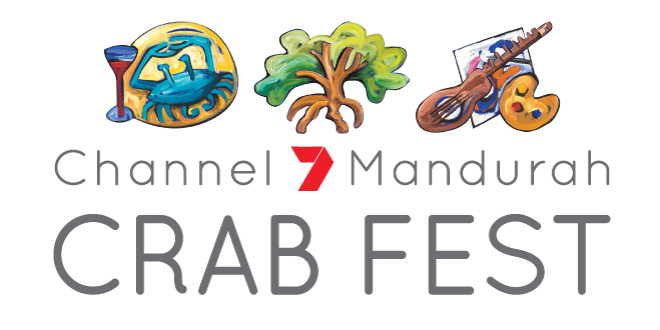 PIC: File
We've got the ins and outs of how to get to Mandurah Crab Festival this weekend.
As the city gears up for the 20th anniversary celebration and influx of tourists a number of road and water closures will be in place.
With more than 100,000 people expected to turn out for this weekend's two-day event the City of Mandurah have already started preparations.
ROAD CLOSURES:
Temporary delays are already in place along Mandurah Terrace and will continue until Wednesday March 21 to accommodate the event set up and pack down.
The following road closures will take place on Saturday March 17 from 5.00am to 10.00pm and Sunday March 18 from 6.00am to 6.00pm
• Mandurah Terrace - closed from Pinjarra Road to Hackett Street
• Gibson, Tuckey and Cooper Street - closed from Mandurah Terrace to Sholl Street
• Smart Street Mall - closed from Mandurah Terrace to Barrack Lane
• Extended road closures will be in place along Mandurah Terrace overnight between Gibson and Tuckey Street to accommodate extended business trading areas
Mandurah Bridge will remain open for the duration of the event.
WATER CLOSURES: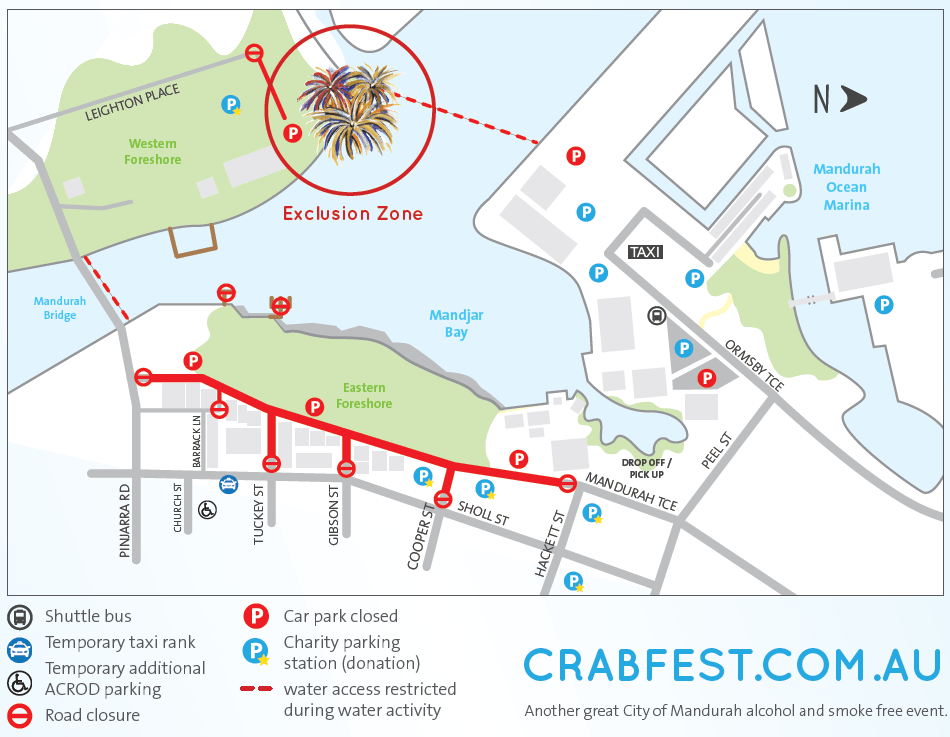 The temporary water closures between the Old Mandurah Bridge and the entrance to the Port Mandurah canals will take place at specific intervals over the event weekend.
All waters within a 250m radius of the firework firing point, located on the Western Foreshore, adjacent to the War Memorial at the entrance to Port Mandurah
canals, will be closed for one hour from 8.00pm on Saturday.
PARKING:
A number of parking sites will be closed on both sides of the foreshore with people encouraged to ride their bikes or catch public transport into Crab Fest.
Mandurah Primary School will be providing monitored event parking on the Hackett Street school oval for $10 per car.
The money raised by the school will go towards installing a permanent shade structure. The oval car park will operate from 9.00am to 9.30pm on Saturday and 9.00am to 5.00pm on Sunday.
The City of Mandurah have released a map indicating which car parks would be closed, with selected sites manned by Rotary and State Emergency Services, who will be charging $5 per car, with all proceeds going towards the respective groups and local community and sporting groups.
Motorists who require ACROD parking will have access to the Mewburn Centre car park on the corner of Sholl Street and Church Lane from 8.00am on both days.
SHUTTLE SERVICE:
The City of Mandurah will provide a free shuttle service for people parking their cars at the John Tonkin High School Oval on Tindale Street.
The shuttle will run event-goers to Ormsby Terrace.
Another free service will operate between Ormsby Terrace and the Mandurah Train Station every 20 minutes with an accessible bus running the same route every 40 minutes.
There will also be a branded Mandurah Forum bus taking passengers between the shopping centre and foreshore.
PETS:
People are reminded to leave their dogs at home, with all pets not permitted from entering the event.