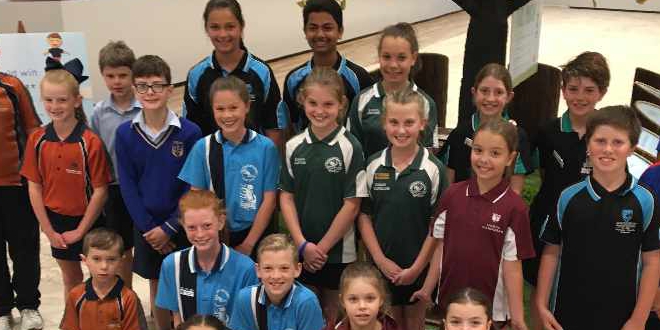 PIC: Supplied
Mandurah Forum has kicked off the second year of its Growing Together Initiative giving shoppers the chance to help their local primary school win a share of $13,000.
After a successful initiative in 2016, this year 11 local schools are in the running to receive cash donations worth $10,000, $2,000 and $1,000 to invest in a community project or school need of their choice.
After meeting with school representatives and launching the initiative on Monday Centre Manager Jacqueline McKenzie said this year's competition is now in the hands of our passionate local community and looks forward to seeing what creative project wins the top prize.
"I strongly encourage our customers to embrace our Growing Together Initiative by throwing their support behind their local school which will help make a real and positive difference in their local community.
"Last year we counted more than 20,000 entries and with 11 local schools involved this year we are looking forward to being flooded with even more entries."
To cast your vote, simply place the token you receive for every $10 spent at Mandurah Forum in the donation barrel belonging to the school of your choice, located near Woolworths.
The schools and projects competing for the top prizes are:
• Assumption Catholic Primary School – Sensory room and reflective garden
• Dudley Park Primary School - Community health & wellbeing area with an edible garden
• Foundation Christian College Primary School - A new climbing frame to complement their newly established nature play area
• Glencoe Primary School - Sensory garden for the nature playground and sun smart structures
• Greenfields Primary School - A buddy bench for the oval, reading desks and environmental studies
• Halls Head Primary School – additional school infrastructure to teach digital literacies including purchasing tablets
• Mandurah Baptist College Primary School - Add to their nature playground
• Mandurah Primary School - Develop a sustainable school garden
• Meadow Springs Primary School – A large fan for their recreational centre
• North Mandurah Primary School - Enhance sustainability program including water tanks for their veggie garden and retic system
• South Halls Head Primary School – A nature playground
Last year Meadows Springs Primary School & Education Support Centre took home the top prize receiving $10,000 which saw them build a new outdoor obstacle course and playground.
Mandurah Forum's Growing Together Initiative is running between 16 October and 17 November.
Winners will be announced on Tuesday 21 November.