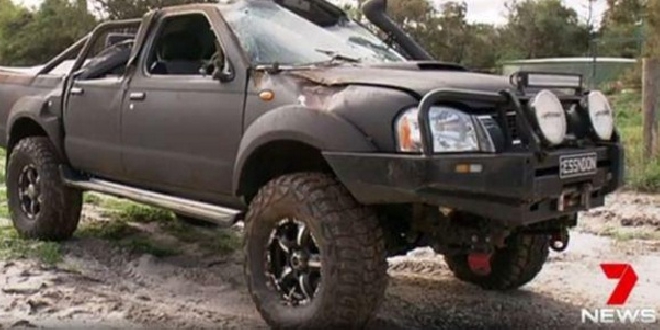 The Nissan Navara that was allegedly rammed off the road PIC: Seven News
A Mandurah man has been charged with 20 offences after he allegedly rammed three cars, a fence and a house between Serpentine and Byford.
Police will allege the man was passenger in a vehicle being driven by another man from an address in Greenfields about 3:30am on Friday.
During the journey, the 31 year old man produced a knife and made threats towards the driver who was able to stop the car in Serpentine around an hour later and get out before attempting to flag down a passing Nissan Navara being driven by 40 year old woman.
The woman drove off before the 31 year old man followed in the Ford Territory and rammed the woman's vehicle a number of times causing it to roll.
He then drove off and was involved in ramming another vehicle and chasing a third (a Hyundai).
The female driver of the Hyundai was able to take refuge after driving to a nearby a service station.
Police said the man then stole the Hyundai after abandoning the Ford Territory and drove to the Byford area where he rammed a fence, a vehicle parked in a driveway, before also ramming a house.
Police claim the man then allegedly broke into a house and stole property before fleeing on foot and damaging the doors and windows of two nearby houses.
The man was the able to force entry into another house where the male resident attempted to remove him. The resident was assaulted during this incident.
The alleged offender then fled into the loft space of the house where police attempted to apprehend him. While restraining him, an officer and the alleged offender fell through the loft floor into the room below.
He was arrested shortly after outside the house and it is alleged that during this incident he assaulted a police officer on two occasions.
The man appeared before Perth Magistrates Court on Saturday charged with deprivation of liberty, armed in manner likely to cause fear, five counts of criminal damage, fail to stop and render assistance after an accident, stealing, two counts of acts with Intent to endanger life/safety, steal motor vehicle and drive recklessly, three counts of aggravated burglary and commit, acts likely to endanger life/safety, common assault, two counts of assault public officer and disorderly behaviour in police facility.