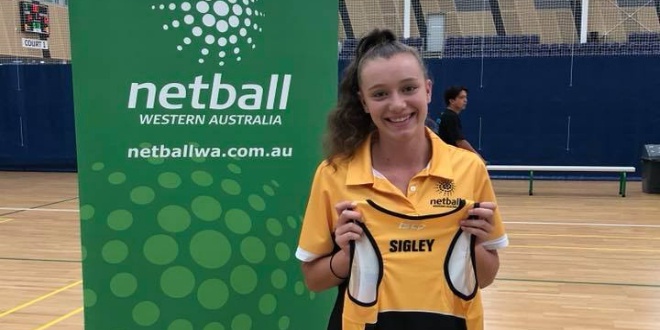 PIC: Facebook / Comet Bay Sports Club
Seventeen-year-old Ella Sigley has been selected as one of only three Western Australian players for the national under 17s netball side.
Ella Sigley will travel to Canberra in October to train at the Netball Centre of Excellence following her selection in the 17 under national side.
The Mandurah Catholic College student was selected off the back of the National Netball Championships, held in Adelaide last month, where both the 17U and 19U sides finished fourth in their respective competitions.
Miss Sigley, who plays for Comet Bay Netball Club and Perth Lions, will be joined by fellow West Australian athletes Sloan Burton, Giselle Taylor and Ella Taylor in the side.
She said she's been playing netball since the age of six, and it's a huge honour to be selected for the elite side.
"Being selected in the U17s national squad means so much to me as I have been dreaming about it since I was a little girl and have always wanted to go to the AIS [Australian Institute of Sport]," she said.
"It's such an honour to be selected from the best netballers in your age group from Australia."
Netball WA CEO Simon Taylor said he was pleased to see so many West Australian athletes selected in the national squads.
"It's fantastic to see some of our State's best up and coming netballers rewarded for their efforts at the National Netball Championships," he said.
"For WA to have a number of players in these National Squads highlights the success of the Netball WA Athlete Pathway, which we expect will to continue to develop into the future through our 2018-2022 High Performance Plan.
"I'd like to congratulate the athletes, and look forward to seeing their netball development continue into the future."
Ella will take her defensive centre court game to Canberra with a focus on being physically and mentally fit for competition.
"My main focus when heading into any competition is to make sure that I have done everything physically and mentally possible to be able to achieve the best that I can," she said.
"I also focus on the things that I can control such as how I play individually and what I can contribute to the team throughout the championship to help the team place."
Western Australia's Sunday Aryang, Kate Bunten, Olivia Lewis and Molly Warne were also selected for the 19U national squad.