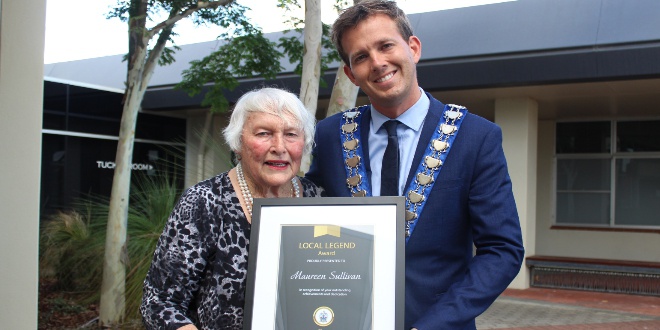 PIC: Supplied
The City of Mandurah has handed out its second local legend award during a council meeting overnight.
Community mainstay Maureen Sullivan was recognised and celebrated for her efforts towards making Mandurah a better place, being honoured with the Local Legends award during last night's Council meeting.
The City awarded Ms Sullivan for her dedication to Mandurah and outstanding community service in a range of areas including sport, community development, youth and refuge services.
For many decades, the former Shire of Mandurah councillor has been heavily involved in making the local community stronger and more connected.
Ms Sullivan held one of the first community development roles at the Shire, and was instrumental in establishing the Mandurah Aquatic and Recreation Centre.
She is a life member of the Mandurah Netball Association, working tirelessly to boost community netball, and established Mandurah's women's refuge.
She is also passionate about helping and caring for young people in the community, and is a past President and Executive Member of Mandurah YouthCARE, delivering chaplains in schools.
Mayor Rhys Williams said Ms Sullivan highlighted how great Mandurah locals are.
"Maureen is passionate about making our community stronger. From being a Mandurah Shire councillors and a strong female leader in the 1980s, to her efforts in fundraising for Mandurah's first aquatic centre, her tireless efforts are truly inspiring," he said.
"We're extremely proud that we have such talented people in our community and it is important that we celebrate our Local Legends' dedication and achievements – their efforts make our community a better."
Ms Sullivan is the second person to be awarded the honour with Mayor Rhys Williams gifting her a plaque during a presentation overnight.