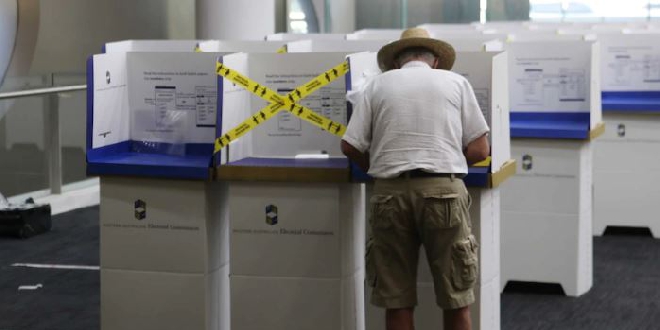 PIC: ABC News/Jacob Kagi
Thousands of Mandurah residents have chosen to vote early ahead of the State Election on March 13.
The early voting centre at Eastlake Church in Greenfields saw 4664 electors pass through its doors across Wednesday, Thursday and Friday last week, the most out of any early voting centre in WA.
Rockingham's early voting centre recorded the second highest with 3759 across the three days, while Falcon saw 2293 voters.
"I guess there's quite a population base in the Peel region and in the southern suburbs of the metro area as well, so in some respects it's not surprising," Western Australian Electoral Commissioner Robert Kennedy said.
Mr Kennedy said anyone can vote early.
"It used to be the case that there was a reason required for voting early, that's no longer the case, the legislation's been changed," he said.
"Anyone can come to any of our 70 centres across the state and vote early in person or if they want to they can also go online to our website and do a postal vote."
Opening hours vary but most centres will be open between 8am and 6:00pm Monday to Friday (closed public holidays).
Voting in Western Australian State elections is compulsory.
The fine for not voting (without a valid and reasonable excuse) is $20 (for a first offence; for subsequent offences the fine rises to $50).
To find an early voting centre near you click here.