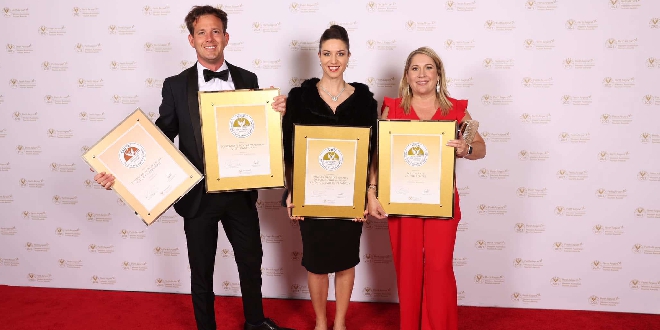 After taking out Australia's Top Tourism Town, Mandurah has secured a swag of awards at the WA Tourism Awards.
The city won silver in the 'Excellence in Local Government: Tourism' category and bronze in the 'Events' category for the Christmas in Mandurah program.
The Visit Mandurah team won the gold award in the 'Visitor Information Services' category and gold in the 'Tourism Marketing and Campaigns' category for its 2022/23 destination campaign, "BIG reasons to visit Mandurah this summer".
While the hugely successful Giants of Mandurah exhibition also struck gold in the 'Major Festivals and Events' category with FORM Building a State of Creativity winning the award for their work in initiating and producing the outdoor art trail.
Mandurah Mayor Rhys Williams said it had been a momentous year for tourism in Mandurah.
"We are incredibly proud of the accolades received at last night's WA Tourism Awards as they further cement Mandurah's place as a trailblazer and innovator in the tourism industry," Mayor Williams said.
"In 2018, having recognised that Mandurah's reputation as a tourist destination was slipping, Council set an ambitious agenda to re-establish our city as a prominent part of the WA tourism scene. This included a major upgrade to our public spaces and the establishment of Visit Mandurah, a Council-funded tourism organisation with a dedicated and skilled team led by some of WA's most talented tourism minds.
"These accolades are a testament to the collaboration between Visit Mandurah, our hardworking City of Mandurah staff, the team at the Peel Development Commission, our neighbours in the Shire of Murray, and of course our deeply committed local hospitality and tourism operators who have embarked on this journey with us from day one. I thank them for their efforts.
"Obviously a key part of this success has been the overwhelming popularity of the Giants project, which has really given us the chance to showcase Mandurah to visitors from across Australia and the world. Our sincere thanks go to our Giants project partners in FORM Building a State of Creativity, the State Government and of course Thomas Dambo for choosing our city as his canvas.
"This is just the beginning of this new chapter in Mandurah's tourism story, and Council is working hard with our partners to ensure the momentum continues."
Visit Mandurah General Manager Anita Kane said these recent awards underscore the organisation's dedication to promoting Mandurah as a leading destination in the tourism industry.
"We are thrilled with the recognition for Mandurah and the commitment of our small yet passionate team to promote Mandurah, enhance tourism offerings and outcomes, as well as gaining well-deserved recognition for Mandurah, not just on a state and national level but also on the international stage."
The recognition of Visit Mandurah's winning destination campaign recently extended to the global stage.
It was recognised as a finalist in the 'Best Communication Strategy – Tourism' category at the ninth annual international City Nation Place Awards, alongside prominent destinations like Fiji, Cape Town, Iceland, London, Switzerland, and others.
.
FORM Building a State of Creativity CEO Tabitha McMullan said their award is an important acknowledgment of the contribution arts and culture makes to a thriving State and economy.
"FORM is so proud to be recognised for our work initiating, producing, delivering, promoting and managing the Australian-first cultural tourism project, Thomas Dambo's Giants of Mandurah," Ms McMullan said.
"As a not-for-profit arts and cultural organisation, we have been gratified by the amazing public response and community impact of the project. Thomas Dambo's work has engaged hundreds of thousands of people around the world, but it is wonderful to see so many people connect with the unique stories and environment of Mandurah through this initiative."