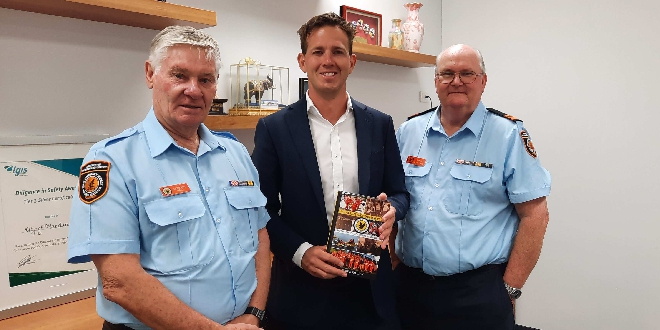 Mayor Rhys Williams with Mandurah SES members Gordon Hall and Chris Stickland. PIC: Supplied
A Mandurah SES member has written a book about life in the State Emergency Service including major storms, floods and search parties for missing persons.
The recently published book – The WA State Emergency Service (SES): History from Civic Defence into the 21st Century, was researched and written by Mandurah member Gordon Hall.
Mr Hall met with Mayor Rhys Williams recently to present a copy of the book, along with SES Mandurah Unit Manager Chris Stickland.
Mr Hall, previously the Regional Director for SES, is now retired and a volunteer.
He found a box of historical documents in his office cupboard and went about collating the data into the captivating book.
Mayor Rhys Williams said it is fantastic for someone such as Mr Hall, with all of his experience as a SES employee and volunteer, to write the book, providing communities across the state, including our own, with a glimpse into SES life and its impact since establishing in 1986.
"Members from our SES crew provided valuable support recently during the devastating fires in the Perth hills. They assisted with transportation of volunteer fire brigade members to and from the fire site, supported the water bombers, and provided other staff on the ground for scribing and
support services," Mayor Williams said.
At the recent meeting with Mayor Williams, Mr Hall and Mr Stickland highlighted some of the work the local SES are doing.
They currently have 83 members, have fortnightly training sessions, and also deliver a cadet program involving 54 children, a program which involves 84 schools across the state.
"I always admire any community member who volunteers their time to help others. SES members are no exception. Calls at all hours, day or night, assisting with storms, flood, fire and everything in between – they are a special breed of human, and it is great that books such as Mr Hall's
celebrate the service," Mayor Williams said.
To find out more about how to become a volunteer SES member, go to www.mandurahses.org.au/
The book is available to purchase on Amazon.