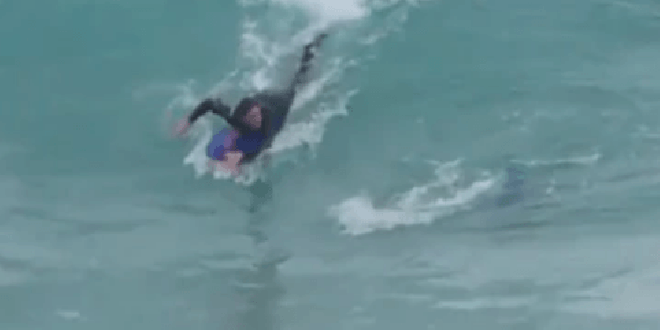 PIC: 7 News
A Mandurah teenager had no idea he came within a metre of a shark while bodyboarding at popular surf spot Prevelly until he got home and watched a video.
Matt Marshall was in the water on the same day a young woman escaped uninjured after being knocked off her board by a great white one beach up in Gracetown.
Matt told Seven News all he saw was a splash and thought it was a dolphin at first.
"Then I went back through the footage and realised it was a shark."
His friend Coby Evans was filming from the beach and said he was just as shocked at being alerted to what had happened.
"It was almost like it was going for him," Mr Evans told Seven News.
"He was lucky he caught the wave essentially otherwise he could have been missing a leg for all we know."