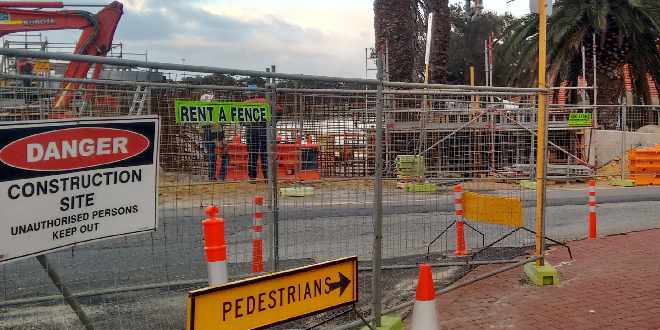 Pedestrian access on Mandurah Terrace will be maintained. PIC: Kathy Koutzas
Mandurah Terrace will be closed between Pinjarra Road and Smart Street for four weeks to link the road and the new bridge on the eastern foreshore.
Works to tie in the new Mandurah Bridge to Pinjarra Road are scheduled for July 31 until August 28 subject to weather conditions and unforeseen operational matters.
Detours will be in place via Sholl Street and Tuckey Street.
The Old Mandurah Bridge and Pinjarra Road will remain open during this time.
Main Roads Acting Project Director Gurdip Kundi said the project partners had worked hard to make sure that the old bridge and Pinjarra Road were kept open to traffic throughout the construction phase as much as possible, however the temporary closure of Mandurah Terrace was essential to link the bridge to the wider road network.
The last of the 13 bridge segments reached the eastern shore in early June and since then the construction team has worked to remove the launch nose and complete abutment works.
Works are now focusing on completing the eastern and western ends of the bridge and linking it to Mandurah Terrace.
Mayor Marina Vergone said the new bridge connection was a significant step to delivering this important project for the local community.
"It's exciting to see the work progress and our vision becoming a reality," she said.
"I must add a huge thank you to road users, businesses and residents for their patience during this project."
During the closure, pedestrian access on Mandurah Terrace will be maintained and businesses in the area will be open as normal.
The City of Mandurah has made a significant investment to try to boost visitor numbers to businesses along Mandurah Terrace during the quieter winter months through space activation activities including the upcoming Winter Wonderland.
Tickets are available now for the family friendly experience from August 4- 27.
The winter-themed fun will include an open air authentic ice-skating rink, delicious food and drinks from local businesses, a cabin bar, and free fun winter activities.
Once the traffic is switched onto the new bridge, work will then turn to demolishing the old bridge, followed by refurbishment of the existing fishing platform on the eastern foreshore.
For further information on this important project, go to haveyoursaymandurah.com.au, email enquiries@mainroads.wa.gov.au or call Main Roads WA on 138 138.