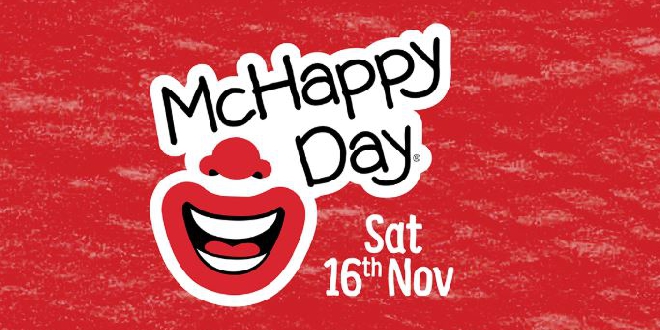 PIC: File
The annual McHappy Day will return to Mandurah on Saturday November 16.
This year marks the Day's 28th anniversary with the aim to raise $5 million nation-wide to support seriously-ill children and their families at a time they most need it.
The funds will go towards programs including the Ronald McDonald House, the Ronald McDonald Learning Program, Ronald McDonald Family Rooms and Ronald McDonald Family Retreats.
This year's fundraising goal would equate to supporting families in need for more than 31,250 days.
McHappy Day is all about celebrating community spirit and McDonald's Mandurah Forum is inviting locals to participate in the event through the following ways:
- Donating a raffle prize – Mandurah Forum McDonald's will run and promote a raffle in the restaurant in the lead up to McHappy Day to help raise additional funds for Ronald McDonald House Charaties (RMHC). If you have any products or services that you could offer as prizes, they would love to work with you on a raffle.
- Volunteering staff - help them collect donations in McHappy Day fundraising buckets in their restaurant on the day.
- Purchasing a Corporate Helping Hand – you can easily show your support by purchasing a Corporate Helping Hand, which are available in $10 and $50 increments, from their restaurant. Your hand will be displayed in our restaurant window
- Purchasing a pair of Silly Socks for $5 or Big Mac Special Sauce for $12. All profits go to RMHC.
- Hosting a Silly Socks for Sick Kids Day at your workplace or school with all donations going to RMHC.
Since 1981 the Ronald McDonald Houses have collectively housed over 3.4 million nightly guests and this number is set to grow with demand from families increasing.
Most families who stay at a Ronald McDonald House are from regional areas and would otherwise have nowhere to stay while their child is in hospital.
By becoming a local community supporter and participating in McHappy Day, you will help to keep seriously-ill children close to their families when it's needed most.