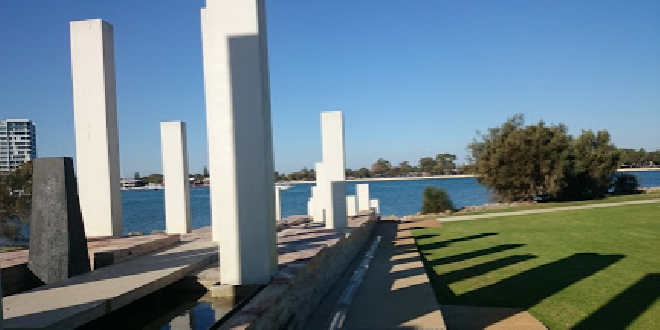 PIC: Google maps
A project to increase safety and reduce vandalism around the Mandurah War Memorial is now complete with the installation of additional CCTV and lighting.
The Safer Streets - Family Friendly Foreshore project was launched on Friday
Stage two of the project included the roll-out of additional CCTV, lighting and space activation in and around the War Memorial in Halls Head.
Minister for Regional Development Fiona Nash said the Coalition Government continued to invest in local communities.
"This project improves the safety and ongoing use of the Western Foreshore at Mandurah," Minister Nash said.
"I aim to build the kinds of communities our children and grandchildren want to either stay in or come back to, and better community safety is a great way to help achieve that."
Federal Member for Canning Andrew Hastie, who attended the official opening, said the project was a welcome investment in the local community.
"This development helps preserve that space for the people of Mandurah by protecting it from senseless vandalism.
"The improvements included the installation of six CCTV cameras, seating at the War Memorial, and lighting in the War Memorial car park at the Western Foreshore," Mr Hastie said.
"With the completion of this project, the community can have more confidence using the Western Foreshore as a gathering space for people of all ages, during both the day and evening."
Mayor for the City of Mandurah Marina Vergone also attend the launch.
"We're so proud to have launched the Safer Streets – Family Friendly Foreshore project on the Western Foreshore, which will further enhance Mandurah as a thriving, safe and connected community," Mayor Vergone said.
"We'd like to thank the Coalition Government for its funding contribution through Community Development Grants Programme, committing the necessary funds to deliver this important project.
"Now the project is complete, the Mandurah community and visitors to the area will be able to enjoy the benefits of extra seating and lighting, new signage, and extra CCTV cameras, which help to promote the Western Foreshore as a family friendly destination."
The Safer Street - Family Friendly Foreshore project was jointly funded by the Coalition Government providing $150,000 and the City of Mandurah investing $65,000 to the project.