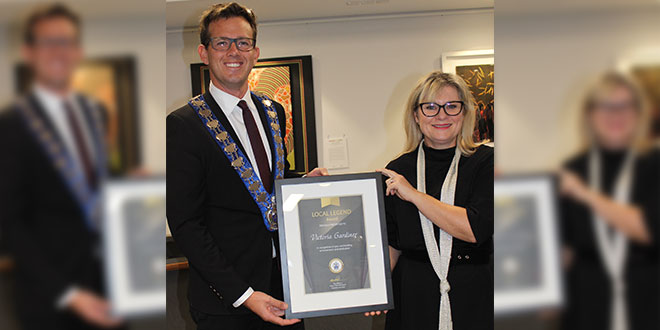 PIC: City of Mandurah.
Victoria is one of the faces behind a popular community Facebook group helping local food businesses during the COVID pandemic.
When local restaurants, cafes and food businesses had to close their dining areas to the public in the midst of the outbreak, local woman Kyles Hewitt set up a Facebook group dedicated to helping businesses promote their goods to the community so they could continue to operate.
The "Mandurah Restaurants and Cafes now offering takeaway and delivery" group was set up at the end of March, and quickly grew in popularity with Victoria coming on board to manage the page. It now has around 9000 members with many using it regularly.
Victoria said when the pandemic started unfolding, one of the biggest challenges for local business was getting the message out that they were still open.
With a day job in the digital marketing space, she began reaching out to everyone in the local food and hospitality sector, encouraging businesses to post their opening hours, menus and information on how people could order takeaway food and home deliveries.
"It was so important for businesses to have visibility during that time, and to let people know they were still open in some capacity," she said.
"It was a very busy job to manage the group, but if it helped one business to stay in front, then that"s great. I wanted to keep the group friendly, fresh and helpful, and there"s so many more great things we can do with it.
"I"ve had businesses reach out and say thank you and that"s so heart-warming. Everyone felt so helpless during that time, and I"m so happy I could help out and put my skills to good use.
"The group really highlighted that there is still a market here, and even in the worst lockdown local people are willing to support local businesses and spend their money locally to make a difference."
Mayor Rhys Williams said Victoria embodied true community spirit in the way she helped local businesses to survive and be seen online during the pandemic.
"I want to congratulate Victoria and recognise her hard work and organisation in making sure our local food businesses had a presence during these really tough times," he said.
"It was so helpful for businesses to have a dedicated space to promote their goods during the pandemic, as well as being really useful for consumers to have one central place to go when looking for a delicious local meal.
"Victoria has done an amazing job in rallying the local community and her work has made a big difference to our local businesses doing it tough over the past few months. She is a very deserving Local Legend."
If you know of someone who deserves to be a Local Legend please contact the City.