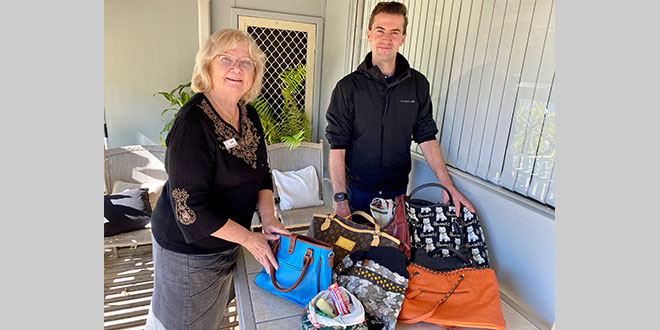 PIC: Supplied. Zak Kirkup MP, with WA Mums Cottage founder Kaye Seeber, launching the handbag appeal.
Mandurah residents are being encouraged to donate unwanted new or slightly used handbags to support the clients of the local community service organisation.
Member for the District of Dawesville, Zak Kirkup MP, has launched the appeal which he said is urgently needed because of the interruptions of donations from community groups due to Covid19.
"Usually, WA Mums Cottage receives handbags donated from community groups and they are refilled with personal products for the cottage's clients. Right now, there is a lack of donations because of the upheaval in the community as a direct result of coronavirus disruption, so we wanted to fill that need by urging our community to donate items for this important cause."
WA Mums Cottage founder Kaye Seeber said customers were often overwhelmed when they received the filled handbags. "So many of our clients have never been gifted anything and spend their time looking after others, so often they are overcome with gratitude when they receive their own handbag with personal items."
The handbags and their contents also boost clients' self-esteem, and Kaye encouraged donors to include a little handwritten note wishing the recipient well.
Clean, empty handbags up to medium size and small personal care items can be dropped off to Mr Kirkup's electorate office at 1/633 Old Coast Road, Falcon.
Anyone in need of any assistance is urged to contact Zak Kirkup's office on 9534 3200.
About WA Mums Cottage:
WA Mums Cottage is a charitable community service based on empowering and improving the potential in the lives of families.
In a special setting, mothers are able to come together for respite, mentoring, self-enrichment, counselling, companionship and advocacy.