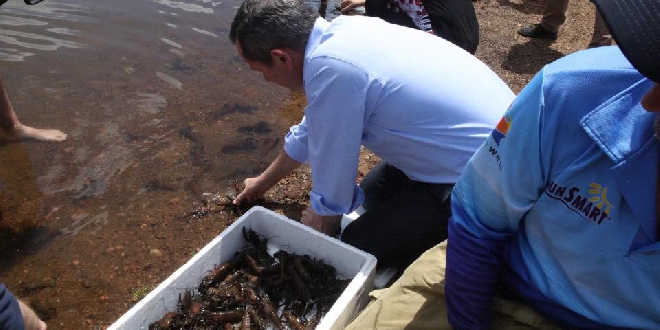 Premier Mark McGowan releasing marron into Harvey Dam. PIC: Facebook
Around 300,000 marron will be released into South-West waterways as part of a new $500,000 stocking program.
Premier Mark McGowan and Fisheries Minister Dave Kelly made the announcement on Sunday while helping to release juvenile marron, grown at the Pemberton hatchery, into Harvey Dam.
More than 10,800 licensed marron fishers take part in the month-long fishing season, which will get underway at 12pm on Wednesday January 8, 2020 until 12pm Wednesday February 5, 2020.
The marron stocking program is part of an almost $3 million package of Recreational Fishing Initiative Fund projects that will roll out over the next three years, funded by recreational fishing licence fees, to improve recfishing in Western Australia.
Other projects to be funded through the latest RFIF round include an artificial reef for Carnarvon, more freshwater fish stocking, and further fish habitat enhancement projects in the south-west and metropolitan areas.
"Recreational fishing is a treasured pastime in our State, and my Government is working hard to ensure fishing only gets better for Western Australians into the future," Premier McGowan said.
"Fishing is not only a great way to get outdoors in the fresh air and sunshine, but also an important contributor to our economy.
"Each year it is estimated 700,000 recreational fishers in Western Australia spend an estimated $2.4 billion a year."