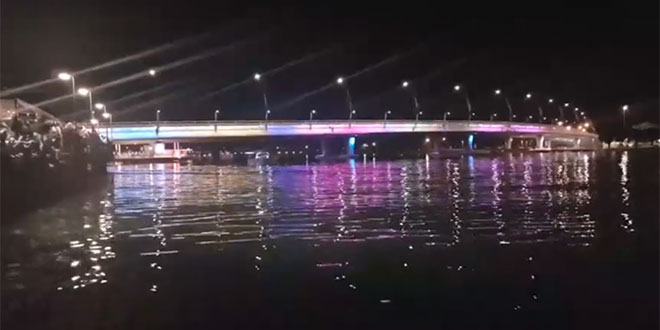 PIC: Supplied
Mayor Rhys Williams has thanked the community for its input from the beginning into shaping the design of the new Mandurah Bridge, and for joining the official opening celebrations on Sunday afternoon.
The newly completed Mandurah Bridge was opened on the weekend with the unveiling of a commemorative plaque and a special light show on the bridge for the community to enjoy.
Thousands of people enjoyed the Mandurah Bridge Celebration Picnic on Sunday, which included the impressive lights display, live music, market stalls and family fun.
A commemorative plaque was unveiled by Transport Minister Rita Saffioti, Minister for Local Government, Culture and the Arts David Templeman and Mayor Rhys Williams during the community event.
"I'd like to thank our community for helping to shape the design and function of our bridge – this includes the fishing platforms, pedestrian and cycling access, and raised height, which are all features that the community asked for," Mayor Williams said.
"From the start, it was important for the City to hear what the community wanted from the new bridge, and to try and incorporate this into the design. I think a great job has been done to reflect the community"s wishes with our new bridge.
"It's exciting to see the completion of one of Mandurah"s biggest projects that is set to benefit our community for many years to come.
"The City's approach to the $53million Mandurah Traffic Bridge Replacement Project has exemplified the vision for Mandurah as a connected and forward-thinking city that honours its past, celebrates the present and embraces its future."
The new Mandurah Bridge is the third bridge over the significant crossing since the first structure was built in 1894.
Features of the new bridge, which the community helped to shape, include:
Four lane bridge to cater for increasing vehicle usage
Five metre wide shared path walkway separated from the road thoroughfare
Retention of a section of the old bridge (including some columns) and boardwalk infrastructure for heritage value
Boardwalks and fishing platforms to the underside of the new bridge
Increased bridge clearance height to match clearances available throughout the Port Mandurah canals
Architecturally designed street lighting and lighting above the shared path to enhance security and safety
The Old Mandurah Traffic Bridge Replacement project is a joint project led by the State Government (Main Roads WA and Royalties for Regions) with support from the City of Mandurah.