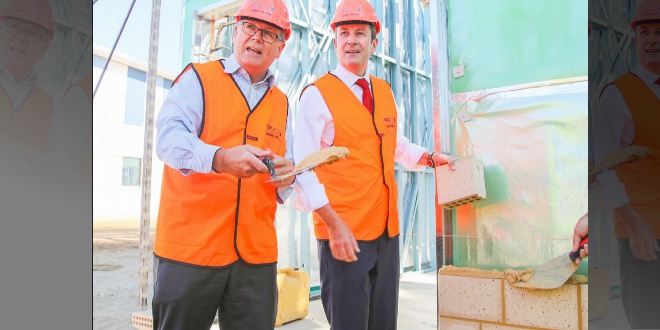 PIC: Facebook / Mark McGowan
Premier Mark McGowan toured the construction site where the Lakelands secondary school is set to be built and opening its doors to students by next year.
The Premier, Member for Mandurah and Mandurah Mayor toured the new Lakelands secondary school site earlier this morning.
The new school is expected to open next year, initially offering enrolment to year seven students.
It's expected to cater for all students, including those living with a disability, providing a hydrotherapy pool, a sports hall and fitness centre.
Also being built at the school are a technology learning area, 10 science laboratories, performing arts classrooms and digital media facilities.
The school is expected to open with a capacity of 600 students and grow by 2022 when the second stage of construction is complete, allowing for a total of 1,500 students from Years 7 to 12.
The second stage of construction will include a lecture theatre, 26 additional classrooms, and three classrooms specifically for students with disability.
The McGowan Government is investing more than $477 million to build new schools and upgrade existing facilities across the state, ensuring students have access to modern education facilities.
Premier McGowan said the new Lakelands secondary school was an exceptional choice for families in the rapidly growing north Mandurah area.
"Having a brand new school with outstanding facilities will give students the contemporary learning environment in which they can excel," he said.
"By investing in local schools, we are ensuring that students have access to the best possible education, now and well into the future."
Mandurah MLA David Templeman toured the site with the Premier, he said new state of the art facilities will prove to be a benefit to students.
"The new school will make a big difference - it will not only provide a first-class education for local secondary students but also an excellent community facility," he said.
"The specialist facilities for students with disability, including the hydrotherapy pool, will be very welcome news for families.
"It was great to be able to visit today and see the progress that has been made; it will be a very exciting day when the first students come through the school gate."
The Premier, Mr Templeman and Mayor Williams also toured the shared use ovals near the school, which will be open to students and Mandurah families.
The ovals will be built on land near a new public secondary school, which is expected to open in 2019.
The City of Mandurah will also provide funding for additional facilities at the ovals for community members, which will complement the recreational areas.
Mayor Rhys Williams welcomed the works in Lakelands.
"These facilities are a fantastic addition and a real asset to the fast-growing suburb of Lakelands and surrounding areas," he said.
"The new facilities will provide a place for the local community to come together and grow.
"It's so important to partner with the State Government and other stakeholders to deliver great outcomes for our community."