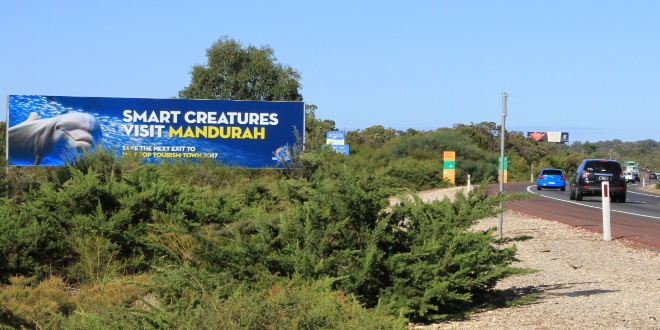 PIC: Supplied
Mandurah and Peel Tourism Organisation hope new signs installed along the Kwinana Freeway will help encourage visitors to turn off at Mandjoogoordap Drive.
If you've driven down the Kwinana Freeway recently you may have noticed the new eye-catching signs fitted out with a friendly Dolphin urging people to visit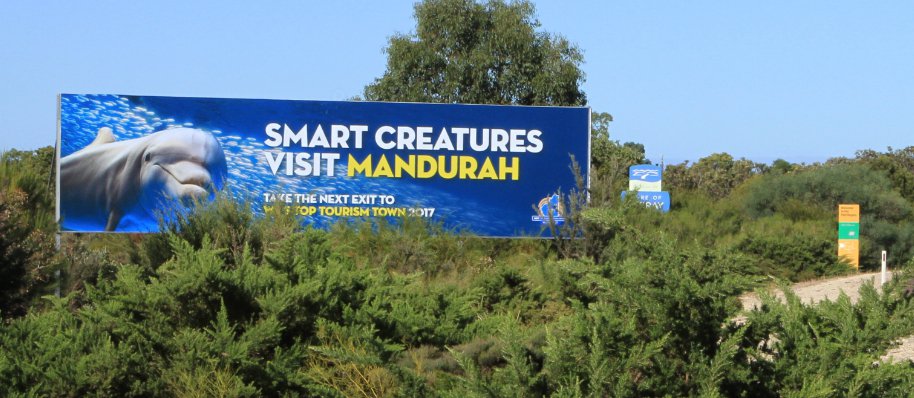 Mandurah.
The advertising is an initiative from MAPTO, in a bid to capitalise on the city's recent crowning as WA's Top Tourism Town.
The messaging is on billboards, both north and south, immediately prior to the Mandjoogoordap Drive exits.
They encourage drivers to turn off and see for themselves why Mandurah was voted best in the West.
MAPTO CEO Karen Priest said the billboards were part of an ongoing campaign to raise awareness, inspire and educate people to visit the region, stay longer and spend more.
"To be named WA's Top Tourism Town for 2017 is a huge honour and reinforces the fact that Mandurah and the Peel Region has come of age, offering award-winning waterfront dining, aquatic and nature-based adventures, world-class golf courses and plenty of places to shop," she said.
"Many people driving past the turn off on the freeway may not realise just how great we are, so the billboards are there to tell them that even the experts have voted us the best of the best."
While tourism spending is down in Western Australia there appears to be no sign of slowing in Mandurah, with the number of day trips to the Peel Region jumping from 2.32 million in 2016 to 2.65 million in 2017.
Ms Priest said while the results were encouraging, there was still room to grow.
"A strong tourism sector has flow-on effects for the whole community," she said.
"It means more jobs and a healthier local economy, not just for the tourism and food and wine industry but for other services visitors use such as grocery stores, petrol stations, pharmacies and hairdressers.
"This increased demand fuels the need for improved infrastructure which makes the region vibrant and therefore more attractive for people to call it home."
What do you think, if you saw these signs, would you pull over?