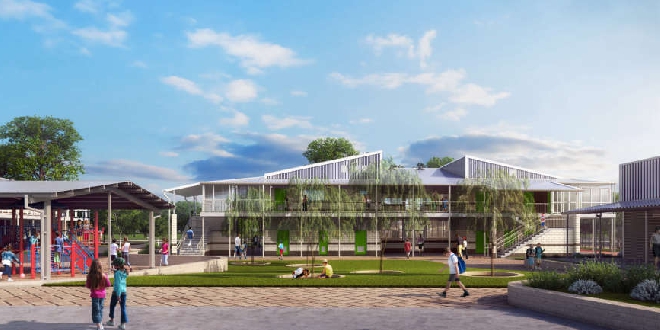 Design images of the new Madora Bay Primary School.
Madora Bay Primary School has been revealed as the official name of the new school opening in 2023.
The local community was consulted on three potential names, with Madora Bay Primary School being the most popular option.
The school, which is the first in the suburb of Madora Bay, is currently under construction and will accommodate 650 students from kindergarten to Year 6 in state-of-the-art learning facilities.
Future students and staff will benefit from a dedicated kindergarten and pre-primary block, administration block with dental therapy facilities and two double-storey general classroom blocks.
The school will also feature a general learning block with an inclusive education classroom and an art and science room.
"Madora Bay is a growing suburb for young families and it is so exciting to see that this wonderful primary school is a step closer to opening its doors to students," Education and Training Minister Sue Ellery.
"Naming the school Madora Bay Primary School is a nod to the coastal location of the school and will help foster a strong sense of community.
"I know families are looking forward to the school opening and having their children learn in state-of-the-art facilities."
The school was designed by Carabiner and is being built by Universal Constructions Pty Ltd.