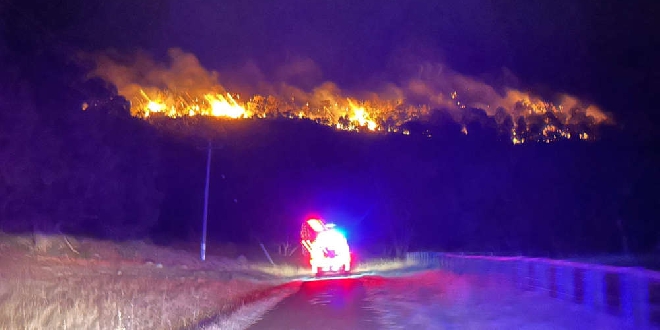 Three bushfires that reached emergency warnings in the Peel region over the weekend have all been downgraded.
Firefighters battled difficult terrain over the past two days to fight the blazes in Nambeelup, North Dandalup and Serpentine.
The fire that started near the Serpentine Dam remains at a watch and act.
It has burnt through over 2000 hectares and is still not contained or under control.
DFES says there is still a possible threat to lives and homes.
Meanwhile, two bushfires in North Dandalup and parts of Barragup and Nambeelup were downgraded to advices on Monday morning.
Both fires are now contained and under control and while there is no threat to lives and homes, people should still stay alert.
The North Dandalup fire has burnt through 113 hectares of land, while the Nambeelup fire has torn through 270 hectares.
All three fires were sparked by lightning over the weekend.
Fire and Emergency Services Commissioner Darren Klemm said with the help of a large air tanker from New South Wales, he expects most fires will be extinguished within the next couple of days.
"Serpentine National Park, in particular, has difficult terrain and so it's hard to put the fires out in that park. The large air tanker will provide the firepower needed to put that out," he said.
"While we've got a range of other aircraft available, we just thought given the inaccessible nature of fire in Serpentine National Park, that it was prudent to get the large air tanker across from New South Wales."
Authorities say while there has been no reports of damage to homes, some sheds have been destroyed.
Commissioner Klemm said it serves as a reminder to all West Australians to make a bushfire plan.
"I really would encourage everyone in Western Australia to take what has occurred over the last 24 to 36 hours as a real key message to download the My Bushfire Plan app, sit down with your family and make your bushfire plan about how you're going to keep people safe."