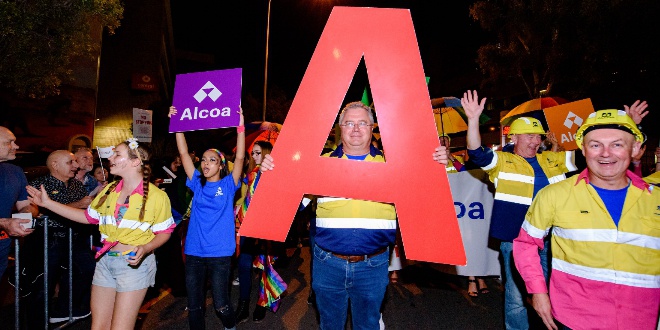 PIC: Supplied
Pinjarra refinery manager Mark Hodgson has been nominated for Network Leader of the Year in the Australian LGBTI Inclusion Awards.
Mark Hodgson will travel to Sydney for the Australian LGBTI Inclusion Awards after he was announced as a nominee in the Network Leader category.
Mr Hodgson is being recognised for his work with Alcoa to encourage the company's journey to accept diversity, encourage open discussion on once taboo subjects, and strive to set an example of LGBTI inclusion for its business peers.
The Awards are hosted by Pride in Diversity, using the Australian Workplace Equality Index, a national benchmark on LGBTI workplace inclusion, to measure progress. Alcoa has been acknowledged, for four consecutive years, as a Bronze Tier Employer in the AWEI.
As the refinery manager at Alcoa's Pinjarra Alumina Refinery, Mark has passionately spearheaded this significant cultural change and has been acknowledged globally by Alcoa for his commitment to inclusion.
Mr Hodgson is the Australian leader and global co-Chair of Alcoa's LGBTI action network EAGLE.
Alcoa's EAGLE network, an action group supporting Alcoa LGBTI+ employees, has grown from 30 members to more than 430 under Mark's leadership.
"EAGLE has been focussed on increasing our membership because when you have a critical mass of people, then the workplace becomes brave enough to speak up," he said.
"Our second aim was to educate our workforce and create awareness of LGBTI issues."
He said a third element of EAGLE was to spread Alcoa's message of visibly by speaking with executives from other organisations, attending LGBTI forums and giving hope to LGBTI young people that there were companies that wanted them to work for them, valued diversity and were striving for inclusion.
"My aim is for every Alcoa employee to bring their 'whole selves' to work and to feel included and valued for who they are and for the diversity of ideas and experiences they bring," Mr Hodgson said.
"It's proven that companies that invest in diversity outperform, and employees who feel valued are more creative, innovative and productive. Not only is the business case clear, but the personal benefits are significant and worth striving for."
Mark said he had been humbled by the many stories he has been told of the difference that putting LGBTI inclusion on the agenda has made to Alcoa's employees, their families and friends.
Mark will be sharing his insights again in June with business leaders at the LGBTI Best Practice Forum hosted by Alcoa at the Chamber of Minerals and Energy.