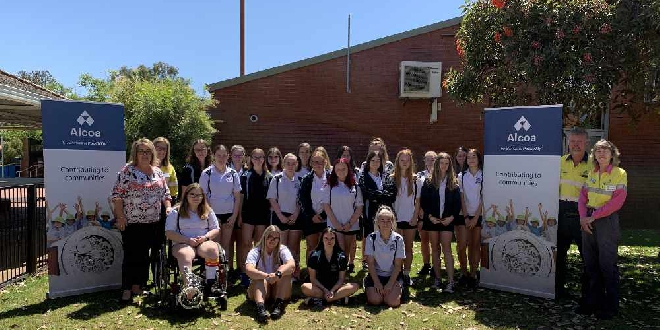 2019 Pinjarra Prospects students pictured with Alcoa employees Lisa Dixon (left), Mychelle Jeffery, Tom Duxbury and Anne Price. PIC: Supplied.
A group of year 10 female students from Pinjarra Senior High School have been recognised for their hard work and participation in the Alcoa Pinjarra Prospects Program.
Pinjarra Prospects is an interactive student mentoring program which has been running for four years.
Throughout the year, 38 students participated in a range of activities, including interactive workshops and networking opportunities, a mine and refinery site tour, career pathway discussions and listened to personal and professional stories from Alcoa employees to enhance and engage their learning.
A number of students also attended the Women in Mining WA Summit at Crown Perth as guests of Alcoa.
"The program allows students to learn about the diverse range of career opportunities that are available to them locally at Alcoa, once they complete their studies," Pinjarra Refinery Manager Mark Hodgson said.
The 'Most Outstanding Student Award' was presented to local student Danica Old for being the most engaged student and receiving the highest assessment score for the program.
Students Sheridan Gangell, Emily Mills and Julie Revell-McElroy were also commended on their exceptional efforts.