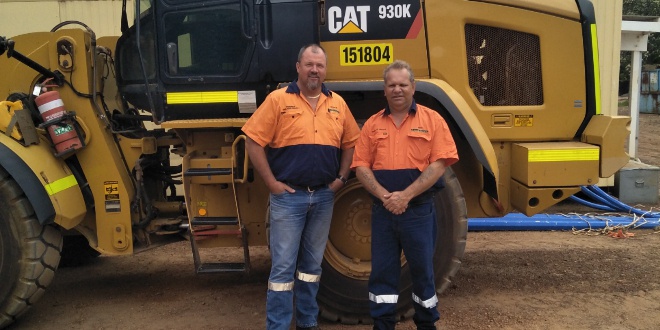 PIC: Supplied
A unique Fairbridge program is giving a second chance to Aboriginal men in the Justice System.
Rob Jackson's story isn't a new one, making his way in and out of prison since the tender age of 19 and now at 48-year-old he's done time for a 5th stint.
But Mr Jackson applied to join the Fairbridge Bindjareb Program, which he now says has turned his life around.
Fairbridge, with support from the Australian Government and the Government of Western Australia introduced the Bindjareb Program in 2010, a unique training and employment program for indigenous men currently incarcerated.
The program is designed to provide nationally accredited training while re-engaging indigenous men with their cultural roots and their sense of self.
In 2016 Mr Jackson was one of 15 inmates selected for the program after officials were confident he was committed to change and rehabilitation.
Since completing his training Mr Jackson was invited back as a peer mentor with a recent intake group.
"The Peer Mentor role made me re-evaluate what I wanted to do and made me want to set an example for the new group, that you can change your ways," he said.
With the support of Fairbridge, Mr Jackson was successful in his application for Parole and has been offered a full time role with Fairbridge as Group Mentor.
"It's an opportunity I never thought would happen, at first I thought why me and was scared to fail, but Fairbridge have given me so much support that goes beyond the Bindjareb Program," Mr Jackson said.
"Mistakes I made in life were often done out of grief, the Bindjareb Program and support from Fairbridge has taught me how to deal with these issues and not revert to my old ways.
"I now have a place to live, secure income, and am able to set a positive example for my kids and future Bindjareb men. I'm settled and have stability in my life."
The Bindjareb Project stemmed from an idea from Aboriginal Elder Mr John Alexander who at that time had retired from a national management role in the mining services industry and had joined the Board of Governors of Fairbridge.
Through collaboration between the Department of Justice, BIS Industries, and Fairbridge Western Australia Inc. the project began, and it's continued success is supported the Department of Prime Minister and Cabinet, Westrac, Caltex, and many other industry partnerships.
The Fairbridge Bindjareb Program exists to provide Aboriginal people currently engaged in the criminal justice system the ability to be employed and provided with industry training in a supportive environment that leads to real guaranteed jobs and real careers in the mining and related industries, in a way that leads to positive sustainable change in their lives and the lives of their families.
Since its inception eight years ago, 143 aboriginal men have been involved with the program with an 85% success rate and over half the participants gaining and maintaining continuous employment for more than 26 weeks.
Program data shows that only 18% of the Project's participants returned to prison within two years of being released, and that of those jailed for new offences, not breaching parole conditions.