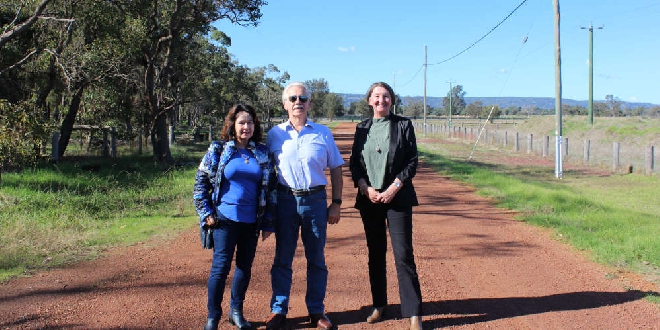 Marilyn Fowler, Bob Fowler and Shire of Serpentine Jarrahdale President Cr Michelle Rich pictured at the 28-hectare subdivision site located within the West Mundijong Industrial Area.
The Shire of Serpentine Jarrahdale is set to welcome the first major subdivision within the West Mundijong Industrial Area, with a 28-hectare subdivision development about to start.
Fowler Group will subdivide eight new industrial lots, with sizes varying from 1.5 to 6.5 hectares.
These lots will be able to accommodate a range of industrial developments, creating a range of new jobs and private investment opportunities within the Shire.
Shire President Cr Michelle Rich said the West Mundijong Industrial Area was a long-term priority for the Shire and the industrial precinct was one of the most strategically located areas in the southern metropolitan area.
"The Tonkin Highway extension from Thomas Road, Byford, to South Western Highway, Mundijong, will travel alongside the eastern boundary of the park, while a southern Intermodal Hub and a relocated rail freight line is projected for this location as a part of the Westport Outer Harbour development," Cr Rich said.
"The Shire has carried out a range of planning activities to enable this first stage of subdivision to take place.
"This has included comprehensive rezoning, structure planning, infrastructure analysis, water management and the preparation of the Development Contribution Plan for shared infrastructure.
"It is extremely exciting Fowler Group has chosen to invest in the West Mundijong Industrial Area, an investment that reflects the high potential for economic growth in Serpentine Jarrahdale.
"Fowler Group have identified that potential and the Shire is thrilled to welcome them."
Fowler Group Managing Director Bob Fowler said the company was pleased to be developing the eight lots within the precinct.
"We see the positive contribution our development in this area will have on local employment and the community," Mr Fowler said.
"West Mundijong is strategically located to utilise the proposed road and rail extensions, together with the longer term proposed new southern port.
"There have already been several enquiries from companies wanting to establish or relocate to the West Mundijong area and this is pushing us to move quickly to undertake and complete this exciting project."
For more information on investment opportunities in SJ, visit >> sjshire.wa.gov.au/business-and-tourism/business