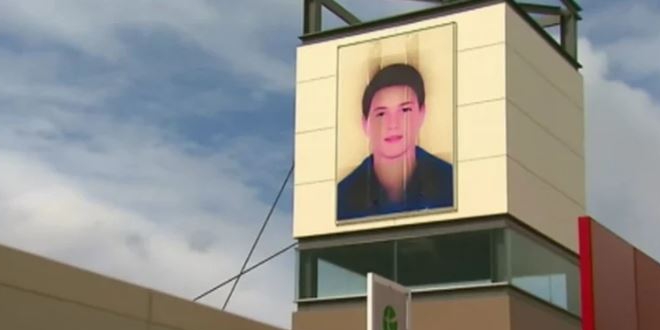 PIC: Nine News
Community members are encouraged to have their say about what they would like to see installed on Cockburn Central Station's tower through a public survey.
The most popular option will replace the long-standing Cockburn faces artworks, which was commissioned in 2007 during construction of the Mandurah Line.
They were removed in October this year due to safety concerns surrounding their deteriorating condition.
The artwork, titled Faces of the Community (2006), was created by artists Marco Marcon and Rodney Glick, who used specialist software to merge digital photographic portraits of more than 200 local residents.
The four options available are the installation of an analogue clock, digital advertising screens, a new piece of artwork or replacing the original Cockburn faces.
"The Cockburn Station tower is seen by thousands of people a day, whether it's from the freeway, the train or visitors to Cockburn Central, so whatever its new face will be we want to make sure it's appealing and fun," Transport Minister Rita Saffioti said.
"One of the main ideas behind public art is that it stimulates public debate, and the Cockburn faces have definitely been a polarising piece of artwork since their installation.
"Many people have an opinion about what they think should go up there, and now is their chance to be part of the conversation."
To complete the survey, click here. The survey will close on January 2, 2020.