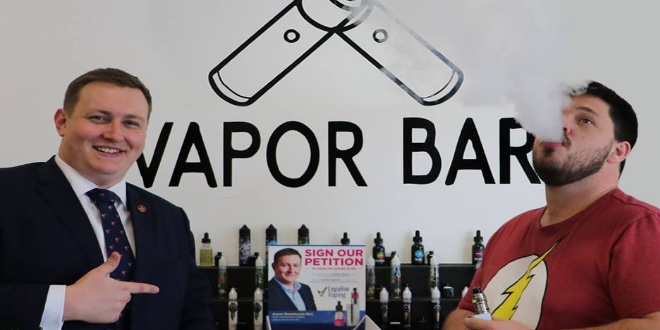 PIC: Aaron Stonehouse MLC
Local MLC Aaron Stonehouse has his sights set on making Mandurah a 'vape for all' zone with new vape petitions.
Member for South Metropolitan Region, Aaron Stonehouse MLC, has delivered a petition in support of the legalisation of vaping to a Mandurah vape vendor to drum up support for the issue.
Mr Stonehouse was recently appointed as WA Spokesperson for Legalise Vaping Australia, and is currently touring the state in an effort to drum up 50,000 signatures for the petition. He met with Wayne Hawkins, Owner of Major Vapour, in Mandurah.
"Wayne is one of the most knowledgeable people that I've met within the industry, so I truly am delighted that he's agreed to promote our petition to legalise vaping," Mr Stonehouse said.
"I support vaping, the Liberals seem to be coming around as well, but the Government has the numbers, so we need to figure out a way to get them on board the vape-train as well.
"One of the problems with the current ban is that it pushes people to use dangerous alternatives, like buying e-cigarettes online and then relying on YouTube videos to put them together.
"Wayne took me aback when he pulled open a drawer and showed me all of the dangerous e-cigarettes that he has voluntarily confiscated from customers over the years.
"The ban on e-liquids containing nicotine is pretty dumb as well. You can already buy nicotine in patch-form, and having it in liquid-form really helps those hardened smokers kick the habit.
Mr Stonehouse pointed to other Governments who backed vaping on public transport.
"New Zealand has legalised vaping. The UK Parliament has just come out with a report saying how people should be allowed to vape on buses and trains. The evidence stacks up," he said.
"Wayne doesn't want to set the world aflame. He just wants to help people to quit smoking and to make a living for himself and his family.
"And if I can help to make that happen by making some noise and rounding up signatures, then so be it."