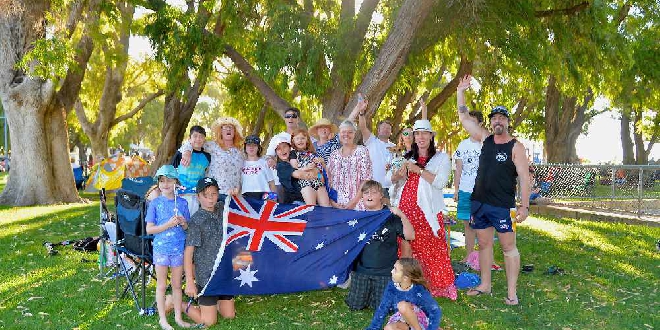 Celebrate Australia Day 2020 at the Rockingham Beach Foreshore. PIC: City of Rockingham.
The community is invited to celebrate the City of Rockingham's Australia Day celebration.
The free, family-friendly event will begin at 5pm at Churchill Park on Sunday.
It will feature live entertainment, free children's activities, food trucks and a fireworks display.
The event will be highlighted by performances from LIVE WIRE, Chain Duo, Gypsy Lou and the Kingfishers, Ashlea Reale and finalists from the 2019 Breakthrough Music Competition.
Fireworks are scheduled to begin from 8.30pm.
City of Rockingham Mayor Barry Sammels encouraged the community to join in on the celebrations.
"The annual Australia Day Celebration at the foreshore is one of the most popular events on the City's calendar, with thousands of people taking the opportunity to celebrate everything that's great about Australia each year," Mayor Sammels said.
"In addition to hosting celebrations at Churchill Park, the City will also proudly conduct its annual Australia Day ceremony at the Gary Holland Community Centre in the morning."
"More than 100 new Australians will be welcomed during a citizenship ceremony. The winners of the Community Citizen of the Year Awards will also be announced."
Additional parking for the celebration at the foreshore will be available at the Village Green from 3pm – 9pm.
The City has also arranged for Transperth to provide extended services for bus route 555 between Rockingham Train Station and Rockingham Beach.
The 555 bus route will be extended to 9.30pm, operating on a 15 minute frequency from 5pm to help people get to and from the foreshore.