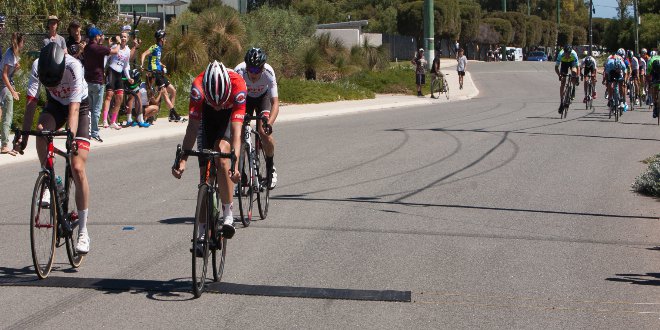 PIC: Supplied
The Peel District Cycling Club took to new roads in Rockingham for a big fast open circuit in the latest instalment of the series.
Rockingham played host to the club's ring criterium series with the Alumina Way circuit proving to be larger than the usual short technical circuits used in the rest of the series.
Jackson Mawby proved successful in the Men's A grade with Keiran Scott coming in second and JP Van Der Merwe holding third position.
Having recently returned from the Tour of Taiwan, Michael Freidberg looked to be a clear winner at one point in the race but was unsuccessful in holding a lead.
Natalie Britz's consistent effort throughout the series awarded her first place in the weekend's women's A grade race.
Britz's tactics were simple, make sure there were no breakaways and everybody else tactics, get into a break without Britz.
The race finished in a bunch sprint and Britz demonstrated her sprinting prowess to take the win, with Emily Mascaro second and Zoe Clayton third.
The first half of Men's B grade was a frantic race, with riders attacking and getting quickly chased down.
Eddy Holland's took first position, followed closely by Mark Matear in second and Dan Griffiths in third.
Danica Wiggins took a win in the women's B grade with Claudia Dohr and Kirty Moore in tow for second and third place.
The Women's C grade bunch, made Emily Wiggins work, covering attacks, the bunch stayed together and in the final sprint Emily took the win, with Kristen Simpson second and Isabella Commons third.
Men's D grade had a mixture of youth and experience.
In the bunch sprint it was Lachlan Loveridge first, Callum Milne second and Taj Mueller third.
Women's D grade was similar to the men's race, fast, aggressive racing with nobody getting a break and ending in a bunch sprint, which was won by Emily Washington, with Natasha Pertwee second and Jasmine Quick third.
The under 11 riders and their chaperones took to the circuit for the participation event, though a number of the juniors took a competitive approach.
The results as usual were smiles all round.
In the Ring Series, E grade is the domain for recent graduates of the under 13 racing.
The group stayed together for a full twenty minutes of the race and the bunch sprint was won by Jordan Williams, with Daniel Morris second and Ryley Colett third.
The first race of the day was the under 13s, finishing with Sam Washington first, Rusty Wisewould second and Sam Castle third.
Next Sunday sees the Ring Series conclude in Leederville.
Peel District Cycling Club will take a short break before the Club Criterium Championships at Smeaton Way on 15 April.