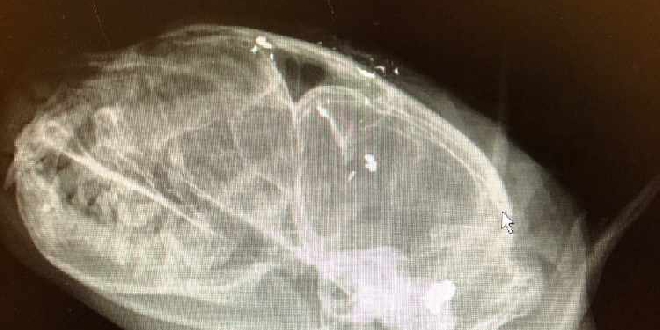 X-rays of the cat show bullets in its head. PIC:RSPCA WA
RSPCA WA is investigating after a cat was shot in the head in Boddington.
The owners of the cat, named Dash, found him dead on Sunday, May 16, on the side of the road near the recycling centre on Johnstone Street, near their house.
The owners took Dash to a local vet, who then reported the incident to the RSPCA.
If anyone has any information about this incident, please call the RSPCA Cruelty Hotline on 1300 CRUELTY (278 358) or complete an online report at www.rspcawa.org.au/report-cruelty. (Your details will remain confidential).
RSPCA WA would like to warn all pet owners in the area about this incident, and remind them to keep their pets safe.
They recommend that cats be kept indoors, to protect them from harm, and to prevent them from impacting on local wildlife.
RSPCA WA would also like to remind the community that it is never okay to intentionally harm an animal.
If you have an issue with roaming or nuisance pets in your area, please discuss the matter with the owners, or contact local authorities.