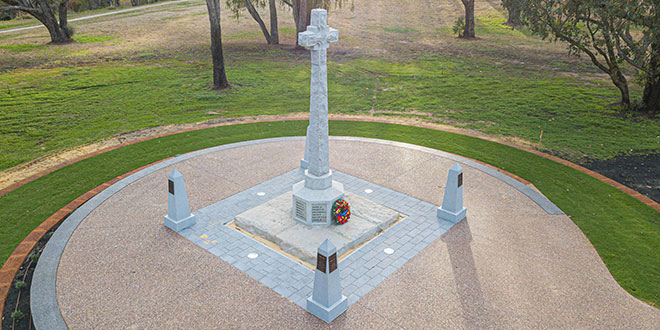 PIC: Refurbished Pinjarra War Memorial looking grand in its new location (supplied).
For Anzac Day 2020, community members are being encouraged to meet on their driveways at dawn, with candles in hand, as part of a nationwide driveway dawn service.
From 5:55am on Saturday 25 April, community members can pay tribute to fallen, past and present servicemen and women by standing at the end of their driveway bearing a lit candle and tuning in to ABC Radio to hear The Ode, The Last Post and join in the minute's silence.
As an alternative to laying a wreath, community members are encouraged to dress their front yards, windows and/or mailboxes with poppies.
A traditional gunfire breakfast, which this year will have to be enjoyed at home, is an Anzac Day tradition that further honours the fallen and unites the living. During the meal raise a mug to diggers.
A special live broadcast of RSLWA's Commemoration Service will be televised at 10:00am which will see His Excellency, the Governor of Western Australia Kim Beazley and Premier Mark McGowan lead tributes to the fallen.
According to Shire President Cr. David Bolt, despite this year's commemorations being somewhat unique, Murray War Memorials are standing tall, especially the Pinjarra and Coolup Memorials following recent refurbishment and relocation works.
"The projects were undertaken in partnership with the Pinjarra RSL and Coolup Progress Association respectively, following requests from each group.
"Representatives as well as contractors, have worked diligently over the past few months to ensure works were completed and the memorials in place in time for Anzac Day," Cr. Bolt said.
Pinjarra RSL President Les Giles, on behalf of the committee and its members, commended the excellent result achieved in the removal and refurbishment of the Pinjarra War Memorial, which through efforts has been relocated within the Glede Land off Henry Street, in the Edendale Homestead precinct.
"Months of planning and meetings between Shire representatives and RSL committee members, produced a result which we are extremely happy and proud of.
"I also wish to commend the trades involved in the project - the monument restoration artisans, earthworks and pavers, landscapers and electrical, who were all very committed and proud to be part of a very important project.
"It is most unfortunate under the current circumstances that we are unable to hold our Anzac Day services, this being the RSL's centenary year in Pinjarra.
"At this point I encourage everyone to take part in their own driveway dawn reflection, with a candle and poppies. Keep safe," Mr. Giles said.
Coolup Progress Association President Ms. Ange Rogers said that while the group was disappointed at not being able to hold its annual service in the intended format, members were proud that they have been able to adapt, like many others that hold services throughout the state and country, to a new version of what Anzac Day will look like this year.
"Association members are big supporters of the "Driveways at Dawn" movement and encourage our local residents to participate," Ms. Rogers said.
The Coolup War Memorial was relocated within the area adjacent to the Coolup Community Hall boundary, slightly east of its original location.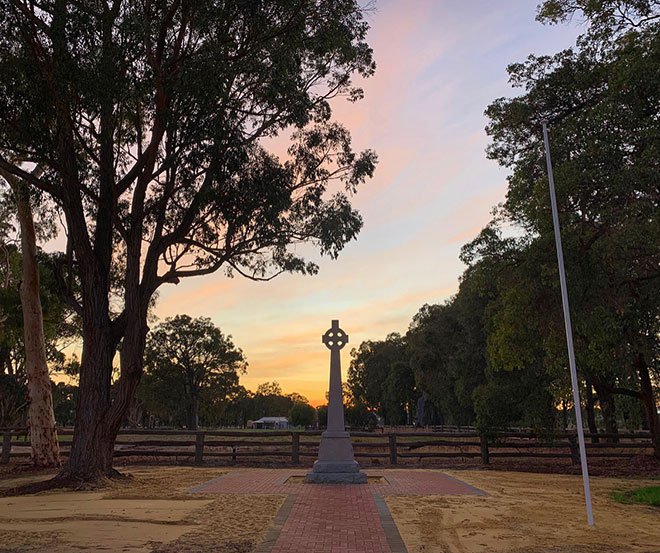 PIC: Coolup War Memorial standing tall following refurbishment works (supplied).
The Pinjarra War Memorial project was proudly funded by the Australian Government's Stronger Communities Program and Saluting their Service Commemorative Grants Program as well as the Shire of Murray, while the Coolup Progress Association funded the Coolup War Memorial restoration works with assistance provided by the Shire of Murray for site preparation and project management.