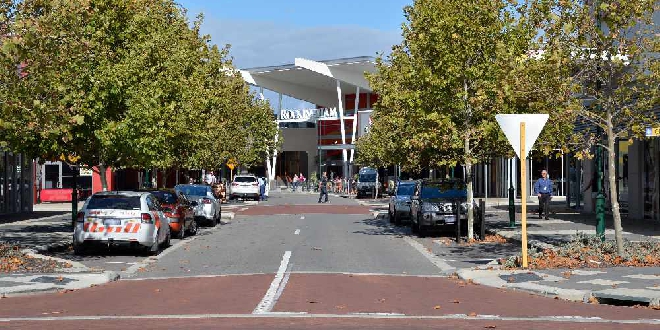 Syren Street, Rockingham will be reduced from 50km/h to 30km/h. PIC: City of Rockingham.
The City of Rockingham has reached an agreement with Main Roads to reduce speed limits at 11 locations across the City.
The changes, which are due to begin rolling out in late March and April, come after the City completed a strategic review of speed limits in high pedestrian areas and areas with changed land use or recent development.
The speed limit changes predominantly take place in the Rockingham Foreshore area and the Baldivis Town Centre.
City of Rockingham Mayor Barry Sammels said speed limit changes were underpinned by the Safe System Principle, which focuses on taking a holistic, risk based, strategic approach to road safety.
"The speed limit of roads are determined by a number of factors such as functionality of the road, traffic volume, operating speed, road geometry, road environment, the presence of pedestrians and cyclists, and crash history," Mayor Sammels said.
"Our aim is to improve road safety in these key activity centres that feature a high number of pedestrians, which is why the City has liaised with Main Roads WA to implement these changes."
Locations where speed limits will be changed include:
Linear Speed Limit Changes

Road

Section

Current Speed Limit

New Speed Limit

Syren Street, Rockingham

Contest Parade to Central Promenade

50 km/h

30 km/h

Baldivis Road, Baldivis

Highbury Boulevard to Sixty Eight Road

80 km/h

70 km/h

Kerosene Lane, Baldivis

McDonald Road to Mandurah Road

80 km/h

60 km/h
Linear Speed Limit Changes

Road

Section

Current Speed Limit

New Speed Limit

Syren Street, Rockingham

Contest Parade to Central Promenade

50 km/h

30 km/h

Baldivis Road, Baldivis

Highbury Boulevard to Sixty Eight Road

80 km/h

70 km/h

Kerosene Lane, Baldivis

McDonald Road to Mandurah Road

80 km/h

60 km/h
Rockingham Foreshore Area Changes

Road

Section

Current Speed Limit

New Speed Limit

Flinders Lane, Rockingham

Patterson Road to Rockingham Beach Road

50 km/h

40 km/h

Kent Street, Rockingham

Railway Terrace to Wanliss Street

50 km/h

40 km/h

Railway Terrace, Rockingham

Kent Street to Rockingham Beach Road

50 km/h

40 km/h

Val Street, Rockingham

Rockingham Beach Road to Esplanade

50 km/h

40 km/h