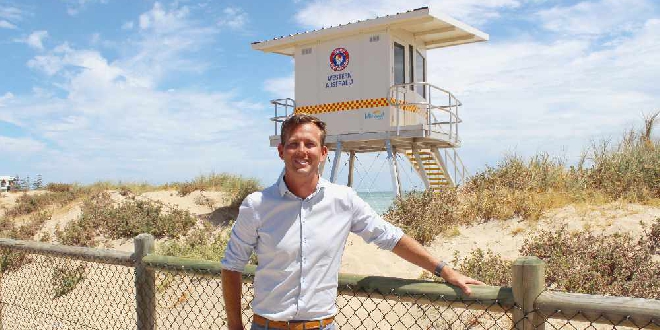 PIC: Supplied
Our local beaches will now be some of the most patrolled beaches in Western Australia.
It comes after Mandurah Mayor Rhys Williams announced the Council's recent commitment to a three-year trial, that will see four of Mandurah's premier beaches patrolled over summer.
From today until January 31, Surf Lifesaving WA lifeguards will be patrolling Pyramids Beach, Falcon Bay, Town Beach and San Remo Beach (Madora Bay) from Monday to Saturday from 8.30am – 12.00pm.
Following the January school holidays, the patrols will continue every Saturday until March 31.
These paid lifeguard patrols will complement the outstanding work of the two local surf lifesaving clubs - Mandurah and Port Bouvard - who will continue to deliver volunteer patrols on Sundays and Public Holidays during this time.
Mayor Rhys Williams welcomed the addition of the new lifeguard patrols to watch over popular beaches.
"Mandurah people love their beaches, and what's not to love - we have some of the most beautiful beaches in WA," Mayor Williams said.
"We're very keen to make sure that our local people have confidence that when they swim in Mandurah, it is safe to do so, and also that we're on the top of every beach lovers list of places to visit over the summer.
"We're stepping out here to do something a bit out of the ordinary, as far as Local Governments are concerned, and making this commitment to beach patrols because we know how important our beaches are to our locals and tourists alike.
The new service is being conducted on a three-year trial, with partial funding provided by the WA State Government, and Council providing the balance of the $550,000 commitment.