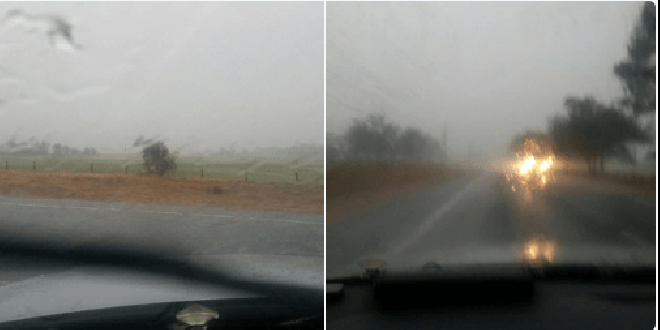 PIC: WA Police Traffic/Twitter
Motorists are being urged to slow down and take extra care in the wet and slippery conditions.
32 mills of rain has fallen in Mandurah overnight while wind gusts reached 70 K's an hour.
There's been some damage in Daweville for boat owners with one crashing onto rocks after breaking from its mooring.
Perth recorded it's wettest June day in the metro area for 31 years with just over 61 millimeters of rain.
The Weather Bureau says it wasn't quite a record for Mandurah with similar rainfall recorded on 29 June, 2016.
The wettest day for Mandurah so far this year was on 10 February with 74 mills.
Atrocious Weather today here in Peel. Please take care and drive to the conditions. #TEG1PEEL @MandurahPol #viewfrompatrolcar pic.twitter.com/gU0m9SyYOt

— WA Police Traffic (@WAPoliceTraffic) June 22, 2017