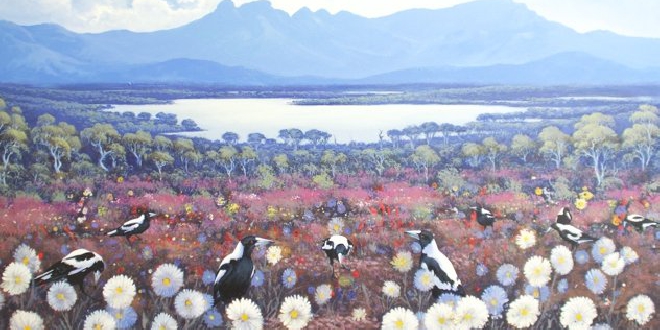 Lance Chad painting PIC: Supplied
Leading Noongar/Yamatji artist Lance Chadd who paints under his tribal name 'Tjyllyungoo' will launch his new exhibition at the Forest Heritage Centre.
The new indigenous art exhibition "KARDAMORDA" opens to the public at FHC in Dwellingup on July 2 as the start of Naidoc week celebrations.
'Tjyllyungoo' means elder man/wisdom/law and the name expresses his skills with his stunning landscapes that have been highly acclaimed in Australia, Japan and the USA.
Some of his work can be found in private collections as well as the art gallery of Western Australia and the Berndt Museum collection.
Lance Chadd has been recipient of numerous awards including the Australian Council Fellowship, the BHP Acquisitive award for excellence in the 'Noongar Country' exhibition and Naidoc Artist of the year.
Lance has chosen "KARDAMORDA" for the name of the exhibition which in Noongar is the name of the Darling Range region.
He grew up in Bunbury and his paintings are imbued with traditional influence through his depiction of the landscapes in his country.
'Tjyllyungoo' is recognized internationally and his work is well received by those without a knowledge of the culture or spiritual beliefs of the Noongar people.
He paints his visions of Australia's harsh yet fragile environment in order to iterate his affinity with the land that symbolizes his heritage and the essence of his own personal identity.
Exhibition opening day starts with an art workshop by Lance Chadd in the morning and official opening in the afternoon and will run for three months.